BY KATRINA DEVINE: Donegal is known for its hospitality but it seems like a bygone age when any passing traveller would be invited in for a drink of water or to sit around the fire.
Couch Surfing is old-fashioned hospitality using the social networking model.
The idea came from Irish American Casey Fenton. In 1999, he bought a cheap plane ticket to Iceland but didn't have anywhere to stay.
He emailed 1500 university students in Reykjavik asking if he could use their couch. The overwhelming response inspired him to set up a registered non-profit organisation in the form of couchsurfing.org.
The aim of the project is to provide world travellers with an inside view to a country by linking them up with locals.
The founders have the idea that by connecting people in this way they can make the world a better place. In a world where we are living more separate lives, it is a way to connect people.
It also encourages a deeper understanding of other cultures and people. The act of visiting a country is not only about ticking of a list of sites to see.
To get started you set up a profile on the site. You can describe your interests and where you have visited or would like to go.
You also list whether you have a couch free or if you are only available to meet for coffee. Other Couch Surfers can search for available couches in the area they intend to visit.
There are also specific groups and message boards for particular regions. Members use these boards to ask questions or to connect with other members.
The project operates in 238 countries. There are half a million users in the United States. Paris alone has almost 50,000 users.
The site proudly boasts that there are even active Couch Surfers in Antarctica. According to official Couch Surfing statistics, there are 16,911 users in Ireland. There have been 22,000 successful 'surfings' in Ireland so far.
Letterkenny is ranked 12th in the list of towns participating in Couch Surfing in Ireland. The Donegal group has 90 members at present.
The members are made up of people in Donegal offering to meet up and those wanting to experience what Donegal has to offer.
Rachel McDonald, 27, is Couch Surfer currently living in Letterkenny. She first got involved with Couch Surfing while living in London.
She is now hoping to help travellers coming to Donegal. She explains: "My boyfriend had been involved in Couch Surfing for a year or two in London. He would have travellers stay with him in a spare room at his family home.
"When I came to Letterkenny, I decided to get involved with the Couch Surfers here. So far, I haven't hosted anyone but I think that's because there isn't as big of a presence here in Donegal as there could be."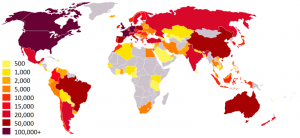 There is a system of checks and verifications to help you make the decision on whether or not to meet people.
Rachel says that she found the idea strange at first.
"It is a bit weird to have someone you don't know stay with you but you can just meet people for a drink if you don't want to let them stay in your house."
She has her status set to show that she only might have a couch available.
"It means that you can say no to a request if you don't like the look of their profile without hurting their feelings".
Even meeting some one for a drink or offering them a lift to an out of the way attraction can give a traveller a unique experience. The recent City of A Thousand Welcomes scheme in Dublin saw over a thousand people sign up as ambassadors for the city.
There is a genuine interest in showing the world that Ireland is open to welcoming the world.
On the potential for Donegal Rachel says: "I agree that Donegal could benefit from Couch Surfing. It could help to attract younger travellers who might be backpacking or travelling without a car.
"It also helps to connect people with locals and show the outside world that we welcome them. They could take home a positive message from Donegal.''
Donegal can be difficult for the traveller on a budget because of the lack of public transport. Without a car, it is near impossible to enjoy such wonders as Malin Head or Slieve League.
Couch Surfing allows the people of Donegal to show their county's scenic beauty themselves.
As the song says: 'there's repose for weary wanderers, in the homes of Donegal'.
Those involved in Couch Surfing in Donegal are meeting in Letterkenny in early June. Visit the site to find out how to show your Donegal.
Tags: