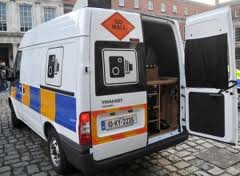 GARDAI across Donegal are out in force this Bank Holiday weekend to crack down on speeding and drunken motorists.
And they will be keeping a special eye out for what they see as the new menace on our roads – motorists using mobile phones.
Traffic corps gardai also fear that there are still too many boy racers causing problems for other drivers.
But sources have told us that a number of operations in various parts of the county will be in place to take boy racers off the roads and bring them to justice.
Donegal's appalling record of road deaths is at the forefront of the Traffic Corps operation with civilian GoSafe speed camera vans out across the county today and over the weekend at accident blackspots where there have been deaths in the past.
The Traffic Corps will be targeting the three main causes of crashes –  speed, drink-driving and motorists using mobile phones.
"We want people to enjoy the bank holiday weekend but we want them to do it safely. We are putting patrols throughout the county to ensure the safety of all road users," said one senior garda.
"There will be speed cameras at several locations, but we are also targeting drink drivers and people  using mobile phones."
Tags: