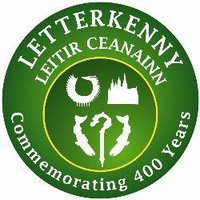 Letterkenny Town Council are planning to mark commemorations surrounding the history of the town by coordinating a series of events over the coming weekend that will focus on the theme of family friendly entertainment.
The events on Saturday June 4th will concentrate on providing free entertainment across the town. The day kicks off with guided historic walks around various locations that are key to the development of Letterkenny. There will also be individual guided walks of the St. Eunans Cathedral and Conwal Church by Father Eamon Kelly and Reverend Stewart Wright respectively.
The afternoon will see live traditional music in the market square by An Crann Og and the Campbell Fiddlers. Set in an informal location in the heart of the town the music will encourage all to stop by and appreciate traditional culture at its best.
The day continues with a Pet Show in the Vestry Hall and storytelling in the Donegal County Museum featuring Sharon Aicken reading stories from Liz Weir and Roald Dahl, with lots of audience participation.
A number of performances of the excellent "Echoes of Time" in an Grianan theatre will also occur throughout the day. The evening will also see an organ recital by Raymond O'Donnell at the Trinity Church on the Main Street at 8pm, another free event open to all the community.
The Sunday of June 5th will focus on a Family Day in the Bernard McGlinchey town park, commencing at 1pm until 5pm. The added highlight of the day will see a display of sword making from Charlie Gallagher and his men, with fighting displays and finishing with a tournament where only the best swordsman will prevail.
The park activities will be augmented with an Ecumenical Service for St. Columba at Gartan Abbey at 4pm and a night of Baroque music with the Donegal Chamber Music Society in Conwal Church at 8pm.
It is hoped that the weekend will encourage more people to visit the town and appreciate the rich history associated with the area.
Friday June 3
Letterkenny – It's About time with Kieran Kelly: Letterkenny's origins as a town from 1611 Cara House, 7.30pm.
Saturday June 4
Guided Historic Walks of Letterkenny Leaving Celtic Cross, Cathedral Square at 11am and 2pm. Booking through Donegal County Museum on 0749124613
Storyteller Sharon Aicken reading stories from Liz Weir and Roald Dahl County Museum at 12.30pm, 1.30pm and 2.30pm.
Echoes of Time: modern adaptation on the origins of the town. An Grianan Theatre, 12.30pm and 2.30pm.
St. Eunans and St. Columba Cathedral Tour: the history behind Donegal's only cathedral. St. Eunans Cathedral, 3.30pm.
Conwal Church Tour: reputed burial place of Letterkenny's founder Sir George Marbury. Conwal Church, 4pm.
Organ Recital with Raymond O'Donnell from Galway Cathedral Trinity Church, 8pm
Sunday June 5
An Crann Og/The Campbell Fiddlers: Live traditional music Market Square, 1-4pm
Pet Show with Donegal Pet Rescue
Vestry building, St.Conals 2pm
Free Family Fun Day: pipe bands, live local entertainment, bouncy castles, face painting, traditional family games, sword fighting and sword making displays, magician, crafts fair and more.
Bernard McGlinchey Town Park, 1-5pm.
St. Columba Ecumenical Service
Gartan Abbey, 4pm.
Baroque Performance
Conwal Church, 8pm.
Tags: