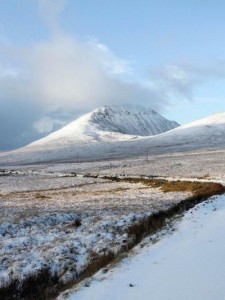 OUR two days of glorious sunshine last week will seem like a distant memory tonight with weather forecasters predicting SLEET and SNOW for Donegal!
Following three days of steady rain and showers across the county, Irish Weather Online forecaster Peter O'Donnell has more bad news for us this morning.
And while the sleet and snow will be on higher ground, it's making this June one of the coldest ever with temperatures well below what is expected for this time of the year.
O'Donnell said up to 20mms of rain will hit the county today.
And he adds that it will be "very cool with lows 3-7 C. A band of sleety showers is likely to push through Donegal into parts of north Connacht and west Ulster and snow could accumulate on higher ground."
That means higher ground like Mount Errigal could get a dusting of snow overnight.
Tomorrow isn't looking much better either.
"Further rain that may mix with sleet or snow over higher parts of the north, while central and southern counties will see intermittent showers with some hail and thunder.  Gusty WNW winds 20-35 mph.  Daytime highs will only reach 7-9 C in the north. Rainfalls of 10-20 mms possible," he reports.
Temperatures will pick up by the weekend to around 15C or 16C but generally still wet with showers.
Tags: