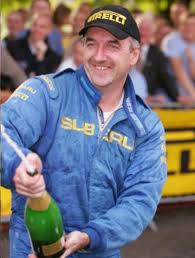 THREE of rallying's greats are set to go head to head in next week's Donegal International Rally.
And all three have won rounds of the Irish tarmac rally championship.
Tim McNulty (Galway International), Derek McGarrity (Circuit of Ireland) and Daragh O'Riordan (Rally of the Lakes) haven't faced each other however – until now.
They will go head to head when the Donegal rally begins from Letterkenny a week tomorrow.
McGarrity is hopeful his damaged subaru will be repaired in time – but is getting back-up just in case.
Garry Jennings and Seamus Leonard complete an all-Subaru top five in the 150-strong entry list.
There is no doubt however that all the focus will be on car No 6, Mikko Hirvonen's Monte Carlo Rally-winning Ford Fiesta S2000 which will be driven for the first time by Tarmac production champion Alastair Fisher.
Also in the top 10 is former UK Mitsubishi champion Phillip Morrow, who makes his second appearance of the season after an impressive but troubled outing on the Circuit of Ireland at Easter.
Top of the Donegal entry list: 1 Tim McNulty (Subaru Impreza); 2 Derek McGarrity (Subaru Impreza); 3 Daragh O'Riordan (Subaru Impreza); 4 Garry Jennings (Subaru Impreza); 5 Seamus Leonard (Subaru Impreza); 6 Alastair Fisher (Ford Fiesta S2000); 7 Sam Moffett (Mitsubishi Lancer N); 8 Alan Ring (Mitsubishi Lancer N); 9 Donagh Kelly (Mitsubishi Lancer N); 10 Phillip Morrow (Mitsubishi Lancer N).
Tags: