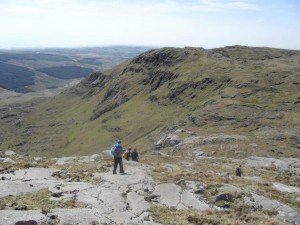 THE COUNTDOWN is on to tomorrow's Harvey's Point Bluestack Challenge.
This sponsored hill-walk was established to raise funds to support People with Special Needs in County Donegal.
On Saturday, walkers, comprising of people from the four corners of Ireland and beyond,  will arrive at Harvey's Point to take part in the Bluestack Challenge Walk.
Members of organisations, sports clubs, businesses and charities are being positively encouraged by the Bluestack Foundation to join in the fun – either as individuals or as groups or to offer sponsorship to anyone they know is participating.  Such donations can be made through the Challenge web site (click here www.hpbc.ie) where you can donate money to any individual walker, allowing donations to be made from all around the world.
You can also contact the office on 074 97 40828 (office hours) or Mobile 087 1226612 and request an application form or make a donation.
Alternatively information can be obtained by emailing walk@hpbc.ie.
The Harvey's Point Bluestack Challenge 2011 Walk is both a 'fun' walk and a 'sponsored' walk.
Patrick McBrearty, of the Bluestack Special Needs Foundation said: "To date we have walkers registered from 29 counties in Ireland while others are traveling from the UK and the USA.
"This year's walk is the most spectacular yet.  We will take walkers to the highest point in the Bluestacks and then to visit the site of the World War II plane crash.
"Although going to the highest point, we have identified a route that will make it possible for walkers of all abilities (with a reasonable level of fitness) to complete this challenge.
"Our team of experienced guides will be backed up by Civil Defence and Mountain Rescue, while our organizing committee will ensure a very enjoyable experience in terms of facilities and refreshments.
"Tea, coffee and scones will be provided at the start of the walk to get everyone off to a good start. At the first major stop, the army will serve up breakfast baps, again with tea or coffee.
"En route to the summit we will have regular water stops and possibly a few surprises. Our goal on the day is to make this a most enjoyable experience for all.
"Every contribution makes a difference and funds raised will go towards making a positive change in the lives of People with Special Needs throughout County Donegal."