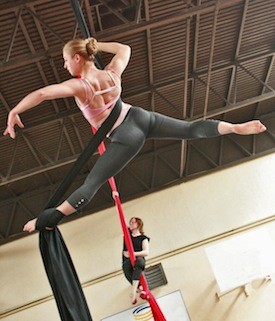 The Irish Aerial Dance Festival held in Letterkenny over the past two weeks has been a roaring success.
It attracted over 80 participants from as far afield as America and across Europe for this unique event.
There are very few places in the world where people can access this training and that is reflected in the distances people were willing to travel.
'It brought a lot of income and visitors to town' said An Grianan Theatre's Marketing Manager Daithi Ramsay. 'Most of the participants had never visited Donegal before, some of them had never been to Ireland. We've hired rehearsal spaces and accomodation, they've bought food, eaten out, socialised in the area over the two weeks, although probably not socialised too late as the classes are quite a workout!.
"It really is a wonder to behold. We also had quite a few locals trying out the Beginner's Taster Weekend with a variety of backgrounds, some had tried polercise, some gymnastics, some yoga, and they all coped really well.'
The Festival was a unique opportunity to experience the joy of 'dancing in the air' and included classes for beginners through to advanced aerial dancers and circus aerialists.
The main aim of the Fest was to offer high quality classes to aerialists, dancers, actors and anyone that might want to give it a go, and of course to give the local economy that little boost.
'We already have people looking to book for next year and many who tried out the Taster Weekend are looking to step up to do a week or the full two weeks so we'll definitely do it again, it's been a great experience for all of us.'
The IADF was organised by An Grianan Theatre and the Aerial dance company Fidget Feet, in association with Donegal County Council.
Fidget Feet are Ireland's leading Aerial Company and were founded by Stranorlar's Chantel McCormick and her partner Jym Darling.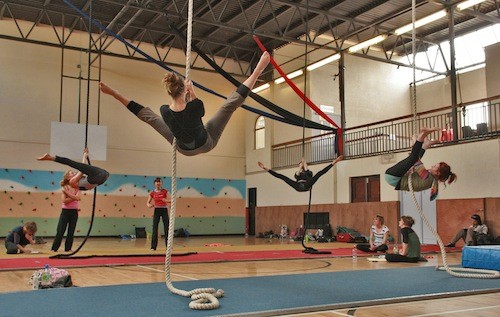 All photos by Jym Darling.
End