Donegal County Council has paid tribute to the Donegal Intermediate Senior team who won the 2010 Ladies All-Ireland Final by giving them a civic reception.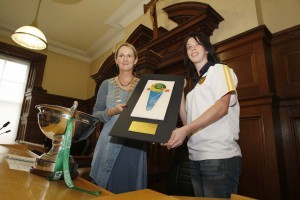 The reception, which was held at the council chamber in Lifford, was attended by all political parties.
In one of her last roles as Mayor of Donegal, Cllr Cora Harvey said she was proud to recognize the women footballers of Donegal.
"It is more than a cup that these young women brought home, but also happiness and pride, they have done their team and County proud.
Mayor Harvey said it was only fitting that the achievements of the team be recognized.
"It is vital that ladies football receive the same recognition as their male counterparts. Last year this team was the pride of the County and it is only right that we the Local Authority recognise and celebrate their achievement.
"Each of these players is great role models and fantastic ambassadors for their County. I was a very proud Mayor last September and I thank you for that.
Tributes were also paid to the hard work of the then Manager Mr Michael Naughton and his staff and the parents and families of all the players.
County Manager Seamus Neeley paid tribute to the winning team and acknowledged the pride that they brought to the County.
Director of Services Mr Liam Ward, a native of Glenfin who was delighted to be associated with the event also paid a glowing tribute to the team and acknowledged other achievements that the team members had achieved.
Team Captain Aoife Mc Donald accepted the specially commissioned piece of Art work and certificate from Donegal County Council on behalf of her team mates, and on receiving the presentation the ladies captain said:
"I would like to thank Donegal County Council for hosting us today, we never expected this and this is a great honour, we don't play football for the recognition but for the sport but it is nice to be recognized," she said.
Ms Diane Toner also spoke on behalf of her team mates and thanked Mayor Harvey for proposing and hosting the event and thanked everyone for coming.
Concluding Cllr Harvey said "This is a very worthy reception and I am glad that we gave the ladies football team the recognition they deserve and I sincerely thank the Elected Members of the Council for taking time out to attend and also to Deputy Pearse Doherty for joining us on such a special occasion."
Ends
Tags: