A Donegal mum has been crowned Ireland's number one mum!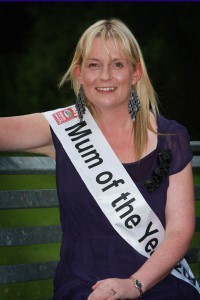 Mother of two and grandmother of one Fionnuala Martson left school when she was 14-years-old to work in a factory but decided to go back to full-time education a few years ago.
She went on to attain a degree in business while working full-time as a primary school secretary, studying from midnight to 4am each night to succeed.
Fionnuala, from Muff in Inishowen, is also the soccer coach at the primary school where she works, despite coping with a severe form of epilepsy she developed in her late teens.
Her mother-in-law, Kathleen Marston, who entered her in the Woman's Way/John West Mum of the Year, said: "It is hard to put what Fionnuala is really like down on paper.
"I feel I am not doing her justice." 

Woman's Way editor Áine Toner said the fact Fionnuala would not let her circumstances dictate the rest of her life was inspirational.
"She is full of real get-up-and-go and we're honoured to award her our Mum of the Year Title for 2011."
Fionnuala, the Ulster regional finalist, was shocked she won the title.
"There are so many women that I think should have won this," she said. 

"I have the greatest mother-in-law in the world. I know everybody scolds about their mother-in-law, about this, that and the other. But I have never been able to do that. We have never had a cross word."
This year's competition attracted over 1,000 entries from across Ireland, with 15 mums chosen to attend the finals in Dublin — three from each province and one from Dublin.
There were four regional winners: Munster's Noda O'Brien; Leinster's Imelda Braisher; Connaught's Maureen Callaghan and Dublin's Annette Burrowes.
RTÉ presenter Bláthnaid Ni Chofaigh, was awarded Celebrity Mum of the Year by Woman's Way readers.
Ends.