…BERNIE HEATH IN BURTONPORT…
He's being called the Irish Leonard Cohen and has seen his song Galileo covered by a diverse range of artists from folk singer Eddi Reader to US superstar Josh Groban.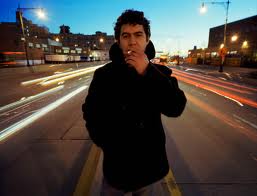 Now Declan O'Rourke is back in Letterkenny this Saturday night after a major return to form in the shape of his recently released third album, Mag Pai Zai.
And donegaldaily.com had two tickets to the show for one lucky reader.
Bernie Heath from Burtonport won the tickets. Well done Bernie, we hope you have a great night in LK!
YOU DIDN'T WIN? MORE ABOUT DECLAN AND HIS GIG AND HOW TO BUY TICKETS IS BELOW:
The songs on Mag Pai Zai came in a flourish following an 18 month bout of writer's block.
"I wrote more songs in 2009 than I ever did in any other year," he said. "Practically all the songs on Mag Pai Zai came from that burst of songwriting. If it weren't my own record, I'd say it blows the other two albums out of the water."
Originally from Ballyfermot, O'Rourke traces his musical career back to the little Australian town of Kyabram.
At the age of 13, when living in Australia with his family, O'Rourke was given his first guitar by a priest in Kyabram who recognised his potential and love for music; hence the title of his debut album "Since Kyabram", which was released in October 2004. The album's launch took place over three sold-out nights in Whelan's and was broadcast live on national radio.
It included the song Galileo which Paul Weller singled out as the only song from the past 20 years that he wished he had written.
Before Weller's endorsement the song was covered by Eddi Reader on her 2009 album and later that year by Jacqui Dankworth (daughter of the jazz greats Cleo Laine and John Dankworth).
More recently Josh Groban included Galileo on his multi-million selling album Illuminations, and the X-Factor's Mary Byrne,a fellow Ballyfermot native, has covered it on her debut album.
His new album, which was mixed at New York's world famous Platinum Sound Recording Studios, features contributions from violinist Steve Wickham (who worked with O'Rourke on Since Kyabram) and internationally renowned arranger Fiachra Trench (who collaborated with O'Rourke on the orchestral arrangement of 'The Hardest Fight'). For O'Rourke, Mag Pai Zai is all the more satisfying as it was entirely self-financed:
"Because of the way the music industry is going, and the way the world is right now, money-wise," he explains, "there seems to be this surplus of goodwill around.
"Because we were funding the record ourselves, everybody that worked on it cut us really good deals, added something, and became a part of it because they wanted to be a part of it.
"That made it so much easier to work with them, and I was much more appreciative of the creativity they were giving of themselves. When I listen to the album I hear that, probably because of those memories. I hope that even a hint of that goodness, that mood, is captured."
Declan O'Rourke performs at An Grianán Theatre on Sat 25 June at 8pm. Tickets €20, available from www.angrianan.com or 074 912 0777.
Tags: