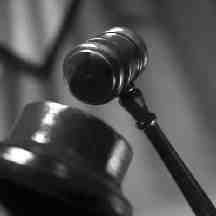 A DONEGAL crimelord has made British criminal history – after being given the longest-ever prison sentence for waste crimes.
One man crime machine Hugh O'Donnell was jailed for four years by judges at Isleworth Crown Court in England, who branded the gang leader's offences 'deliberate and calculated'.
The sentencing  brought a three-year investigation and prosecution by the British Environment Agency to a close.
The EA shut down O'Donnell's illegal operation, situated in Aldermaston, near Reading, in 2008 following a raid assisted by Thames Valley Police.
The illegal dumping site was the size of five football pitches, piled with 65,000 tonnes of construction and demolition waste.
The raid further uncovered weapons, including an unlicensed handgun and ammunition, stolen vehicles, plant equipment and more than Stg£50,000 in cash which were all seized by officers.
GUNS
O'Donnell was subsequently jailed for four and a half years in 2009 for possessing the illegal firearm.
A day after his release last Thursday he was back in the dock to be sentenced for waste and money-laundering crimes relating to the illegal fly-tipping operation.
The 64-year-old was sentenced to four years in prison for money-laundering and 22 months for waste offences.
Judge Edmunds QC told him: "This was deliberate, calculated offending on an industrial scale for profit.
"You carried on in the teeth of attempts to stop you, and with the clear intention of making as much criminal profit as you could before you were stopped.
"The attitude shown to the enforcement authorities was dismissive and obstructive."
ACCOMPLICES
O'Donnell's accomplices, Robert Evans, 59, and Mayo-man Peter Lavelle, 28, received two years and 18 months respectively for money-laundering, and 14 months and 12 month respectively for waste offences – all to be served concur-rently.
Environment Agency Solicitor, Angus Innes said: "O'Donnell's illegal waste business netted millions of pounds in profit by taking skips or lorry loads of construction and demolition waste into the Aldermaston site to be dumped in an illegal landfill.
"This investigation has been one of the biggest and most complex ever undertaken by the Environment Agency, using intelligence and forensic science to proactively target an organised criminal gang running an illegal waste site."
"This sentence sends out a message that waste crime is a serious offence and you can and will be sent to jail."
The EA's crime teams used a range of forensic techniques, including DNA and handwriting analysis, fingerprinting and mobile phone and laptop interrogation, to track the gang members.
Restraint orders, preventing the disposal of over £1m worth of assets gained by the gang, have been in place for the last two years and the EA will now proceed with an application to prevent the gang members from accessing their ill-gotten gains.
Mr Innes said: "The Environment Agency wants to make sure that serious waste crime doesn't pay – we don't just catch criminals… we want to confiscate the assets they've gained from crime."
O'Donnell, Evans and Lavelle have also been banned from being company directors for 10, seven and seven years respectively.
Tags: