Kavanagh's SuperValu in Donegal Town couldn't be accused of following the flock!
The team managed to raised €584 this week in aid of the Donegal Hospice, hosting a "guess the weight of Ben the sheep" competition.
With over 200 guesses, Deborah Bonnar was the lucky winner who guessed the correct weight and won €50 worth of lamb.
Store Manager Gareth Ferry said the event was a huge success.
"We were delighted with the success of this week's fundraiser and would like to give special thanks to Mary Carr for giving us Ben the sheep for the day, he appeared to enjoy the event as much as we all did!
"We would also like to thank all the customers and community who joined in the fun and donated generously to this worthy cause. Each week we draw closer to our €30,000 goal for the Hospice and we are very grateful to all the people of Donegal who are generously helping us to help others"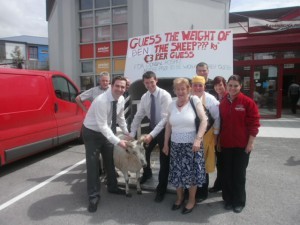 Launching their "Help Us Help Others" campaign on the 6th of May 2011, Kavanagh's SuperValu committed to raising €30,000 minimum for the Donegal Hospice.
With four SuperValu stores throughout Donegal, in Ballybofey, Buncrana, Donegal Town and Dungloe, the Kavanagh Group will give 5c to the Donegal Hospice with every Real Rewards transaction made throughout each store from May 6th 2011 until October 22nd 2011.
Ben, originally from Benbulben thus receiving his name is an 8year old pet ram and weighed in at a massive 114kg.
He lapped up the attention on the day and generated great excitement and competition with guesses ranging from 52kg-150kg at €3 per guess. Kavanagh's Supervalu Donegal Town's Grocery Manager Paul Gallagher will also be selling a sheep at the mart in the upcoming weeks in aid of the hospice.
Kavanagh's SuperValu have been hosting a whole range of fundraising events across their four stores including a fun filled day of car washing, coffee mornings, bonanza draws, table quizzes and bag packs so far raising over €6,000 and well on their way to reaching their €30,000 goal.
With many more exciting events in the pipeline including a climb of Mount Errigal on 21st of August, a flagship run/walk on the 25th September and their upcoming match this Friday 8th of July in Finn Park Ballybofey against Highland Radio. Kick off at 7.30pm, with a raffle and refreshments served in Jacksons Hotel after the game for all players and supporters.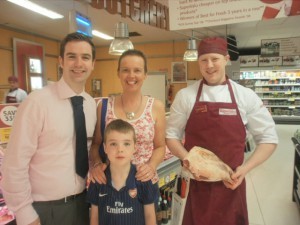 Don't miss out, come along and cheer on your favourite team as they go head to head for the title.
For more information on "Help Us Help Others" Campaign and upcoming fundraising activities please logon to: http://www.facebook.com/pages/Kavanaghs-SuperValu-Donegal/137605522975301#!/pages/Kavanaghs-SuperValu-Donegal/137605522975301
Tags: