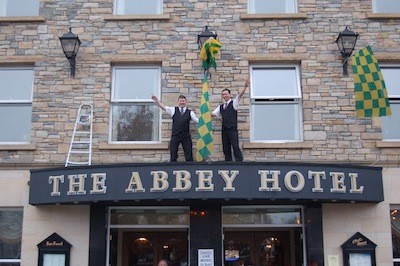 IT'S not often Donegal have the favourites tag – but most pundits are tipping our boys to overcome Derry and win the Anglo-Celt Cup at Clones this Sunday.
Disposing of Tyrone in the semi-final at the same venue three weeks ago has – rightly or wrongly – put Donegal into the driving seat for the clash.
Whoever wins, it will make a refreshing change to the GAA landscape in Ulster.
It will be the first time since 1998 that neither Tyrone nor Armagh will be holding the Anglo-Celt aloft.
And it was 1998 that Derry last lifted the Ulster crown; all of 13 years ago when a last minute goal from Joe Brolly saw them beat Donegal.
Donegal have to go back further – in fact 19 years to the last time we won the Ulster SFC.
We have been in finals since then of course in 2002, 2004 and 2006.
The two sides last met in March when Donegal went to Celtic Park and won in the Divison 2 league clash by 2-18 to 2-12.
While Tyrone and Armagh fans disagree, it can only be good for the rest of Ulster football to see Derry and Donegal contest the final this time around.
And – ticketing fiasco aside – there is a good feeling across the county going into the weekend that Donegal can lift our sixth ever Ulster title.
Jim McGuinness has built a side capable of bouncing back. They did so against Derry in March and can do so again, if needed, at St Tiernach's Park this weekend.
The manager's star 'veteran' Colm McFadden said: "We definitely didn't start well against Tyrone. We'll obviously be looking to improve on that, whether it was a wee bit of nerves and probably the fact that Tyrone came at us and played good football early on.
"Hopefully, it will be good for confidence and give us an extra lift. Every game you win, it seems to push you on that wee bit more, so we should take a wee bit of belief from that game."
Last night at the Mount Errigal Hotel hundreds of fans turned up for a charity fundraising event – in aid of St Eunan's – to chat to legends from the past as part of the build-up.
Not to be outdone the staff at the Abbey Hotel are making sure the green and gold is flying high in time of throw-in.
John Smyth & Chou Chi Liu from are pictured by Paul O'Sullivan getting the flags out for the Ulster Final on Sunday.
* We will have more news, views and pix in the build-up to the big match this Sunday.
Tags: