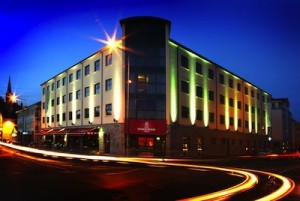 THE Station House Hotel is FIVE YEARS OLD this week and in order to celebrate this great birthday event, the top Letterkenny Hotel and donegaldaily.com have teamed up to bring you FIVE great prizes over FIVE days.
Today's prize is an Early Bird Dinner for 2 at the superb Station House restaurant.
This prize must be won by midnight tonight, Tuesday.
In order to win simply email your name, address and contact telephone number to info@donegaldaily.com.
And complete this tie-breaker in no more than 20 words.
I like to get an Early Bird Dinner at the Station House Hotel because………..
TOMORROW: WIN A COSY OVERNIGHT STAY FOR TWO
THE WINNER OF MONDAY'S SUNDAY LUNCH FOR TWO WAS MICHELLE GAFNEY WITH: I love Sunday Lunch at the Station House Hotel because………..ITS YUMMY, SCRUMMY AND A SUPER TREAT FOR MUMMY!
Tags: