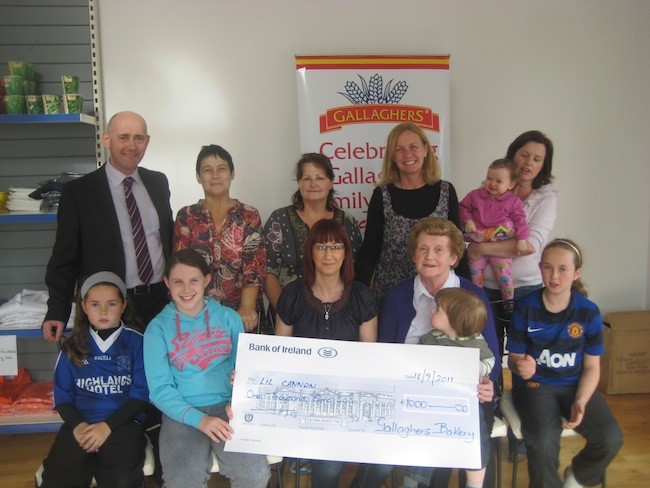 Lil Cannon from Narin Road, Glenties, Co. Donegal was the lucky winner of €1,000 complementary of Gallaghers Bakery Grab a Grandcompetition.
Finding her golden ticket in her White Sliced Pan bought in Cannon's Service Station Glenties, Lil was entered into a draw with other contenders and was randomly selected as the Gallaghers Bakery Grab a Grand winner.
Delighted with her win Lil says: "I've eaten Gallaghers White Sliced Pan for as long as I can remember, it's always been a favourite in our house throughout the years. A big thanks to Gallaghers Bakery for this fantastic prize and for years of fine, fresh bread"
Each week Gallaghers Bakery will put 20 lucky golden tickets into their famous White Sliced Pan with one ticket holder walking away €1,000 richer.
Gallaghers Bakery bread lovers must simply enjoy their white sliced pan, check the inside of their bread wrapper for their golden ticket, contact Gallaghers Bakery and quote the promotional code before the expiry date and they will be entered into a random draw along with the other lucky ticket holders.
Declan Gallagher, who returned as the new owner on 1st of May congratulates Lil on her win: "Well done to our Grab a Grand winner Lil Cannon from Glenties. It's been a great few weeks, full of excitement, anticipation and grand giveaways. Next week will unveil another lucky winner, so keep checking your white sliced pan…you never know where our lucky loaf will appear"
To be in with your chance to Grab a Grand pick up your Gallaghers white sliced pan from any store, enjoy the new and improved recipe and keep your fingers crossed for the lucky loaf with the golden ticket.  You can find out more details about the Grab a Grand promotion on the Gallaghers Bakery Facebook page. Terms and conditions apply and can be downloaded from the Facebook page.
CAPTION: Thomas Boyle of Gallaghers Bakery presents Lil Cannon with her €1,000 prize. Also pictured are Lil's family members.
Tags: