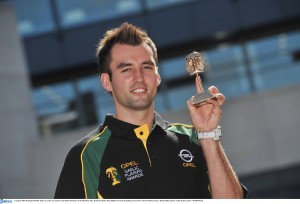 Donegal star Karl Lacey is almost certain to play in Friday's Second International Rules Test against Australia because Emmet Bolton is injured.
Kildare player Bolton sustained concussion after an accidental clash in Friday's First Test in Melbourne.
Lacey was added to the original Irish squad because of doubts over the availability of a number of the squad.
Now it seems Karl will not have made the journey without reason and eh could start in the second test on Friday.
Meanwhile, GAA director general Paraic Duffy has acknowledged that a poor attendance at Friday's Second Test on the Gold Coast could increase the doubts over the future of the series.
Just 22,000 attended Friday's opener in Melbourne.
"I'll be interested to hear what their (the AFL's) angle is on the attendance figures," said Duffy
"The figures suggest an apathy among the supporters. How they see it, I don't know.
"They got a crowd of 22,000. You would expect a minimum of 30,000.
"I can't say what the AFL view is. We have no discussions on it."
The GAA director general added that the code must remain "cost neutral" to the GAA for it to remain financially viable.
"We keep our home gate receipts and the profits we make from that goes to fund the tour to Australia.
"So from that point of view the attendance is not a problem for us this year but if the numbers fall here I think inevitably they will start to fall in Ireland.
"That would cause an issue because if our attendances were to fall to a similar level we simply couldn't afford it. "