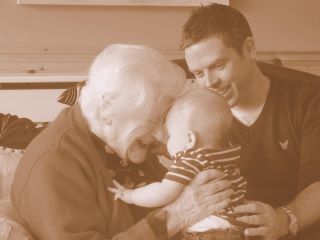 This is the moment when little Letterkenny lad Charlie McGarry meets his 100 year old great grandmother.
And all that separates Charlie and great grandma Bea McGarry from Longford, is 100 years and a day!
The amazing picture also features five month old Charlie's proud dad Conor McGarry from Ballyraine Rd.
The moment was captured by Charlie's granddad Mick McGarry.
Conor is married to Georgina from Crewe (near Manchester) and Charlie their first child made his debut on the 28th May 2011 just a few hours before his great grandmother celebrated her 100th birthday on Sunday 29th May in Ballymahon, Co.Longford.
This photograph is their first meeting and you can tell they are glad to see each other. Charlie's proud grandmother Mary McGarry said
"It's a wonderful moment and a great photograph and I am sure it will be cherished in the family for generations"
While Bea McGarry's long wait to see her first Donegal great grand child was finally ended, the wait for Anfield's first premiership title continues for avid Liverpool fans Mick, Mary and Conor.
Charlie is apparently non committal at this stage but has his mother's Manchester roots to fall back on if the suspense of waiting to see a trophy becomes too much for him.
Tags: