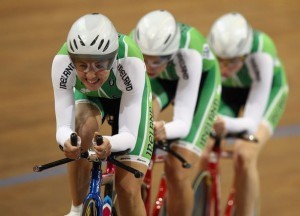 THERE is a palpable sense of devastation in Co Donegal today after one of our finest sports women failed in her bid to qualify for the London Olympics…thanks to a burst tyre.
Sinead and team members Ciara Horne and Caroline Ryan were competing in a 3km race in Astana, Kazakhstan, knowing that fourth place or better would given them the points for qualification.
They were not allowed to start again because they had already false started on their first attempt and only two starts are allowed at this level.
Said Letterkenny woman Sinead: "We were doing great. We were well inside the Irish record and about 4th overall when we punctured. We couldn't finish and so we didn't pick up any points. The Olympic dream is over.
"We are so devastated but at least there are no regrets. We gave it our all."
The team were riding the World Cup meeting – one of four Olympic qualifying World Cup events in the lead-up to the London games – for their trade team Cunga Bikes rather than for the Ireland squad.
That's because the Irish Sports Council – in its wisdom –  cut the Cycling Ireland high performance grants. Sinead and her teammates had decided to continue independently with their bid to qualify for London.
But it's all over now.
"It was really bad luck for the girls," said team manager David O'Loughlin.
"They had a false start on their first attempt. But on the second attempt they got away well and were riding good splits through 1.5km when Ciara (Horne) pulled up with a puncture."
"It was a big splinter from the track in a good wheel. Unfortunately you are only allowed two starts. I feel really bad for them, they've worked really hard for this over the past few months."
Friend Alma Kavanagh told donegaldaily: "We're all gutted for Sinead. She sent me a text to say that they just had to finish in fourth place and were actually close to third place when a tyre blew on the bike.
"Sinead's devastated. She's such a fantastic athlete and we were all getting behind her for the Olympics with fundraisers but it's all gone now."
A fundraising event for the Letterkenny sports woman – a world champion rower – had been planned for later this month.
Sinead, a doctor, says she will talk to organisers about the event going ahead, with money going to charity instead.
LEAVE A COMMENT FOR SINEAD BELOW IN OUR COMMENTS SECTION
donegaldaily.com – real journalists on a real news website.
THIS STORY IS COPYRIGHTED BY DONEGALDAILY.COM. IT'S REPRODUCTION ON ANY OTHER SITE WILL BE PURSUED THROUGH THE COURTS.
Tags: