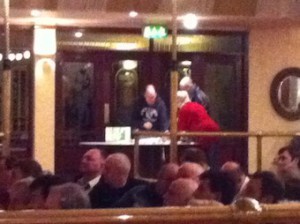 LETTERKENNY'S simmering row over GAA parishes is set to continue into the courts after clubs in the county voted in the early hours of this morning to SPLIT the town between Letterkenny Gaels and St Eunan's GAA clubs.
Donegal's GAA clubs voted 40 to 36 to accept that no pre-existing agreement existed between the clubs.
There were six spoiled votes. One was illegible. Four were blank and a sixth had an 'x' marked on it.
The clubs' vote had to be taken twice after 83 votes were found in the ballot box the first time around – and only 82 delegates were entitled to vote.
The Gaels now have had the Aughaninshin part of the town declared as their club's catchment area.
That leaves St Eunan's with Conwal and Leck part of the town only.
However sources said the dispute will now to go to Croke Park – and possibly to the courts.
The decision will cause bitterness in the town amongst St Eunan's club supporters and their families.
Earlier a vote was taken to see if the clubs would even vote on the issue at the meeting in Jackson's Hotel in Ballybofey.
A proposal to send the issue to Croke Park won the support of 20 delegates; however another proposal that the matter be dealt with on the night was passed with the support of 44 delegates.
Some club representatives said that they didn't feel they should make a decision on a dispute between two other clubs.
County Board chair PJ McGowan said the delegates had to decide whether or not a pre-existing agreement exists between the two clubs, and if they didn't then the bye-law allowing the parish split would kick in.
However other club representatives said they had been mandated to take a decision on the night.
In a lengthy speech to delegates Letterkenny Gaels' John McDermott complained that St Eunan's representatives had failed to turn up at a meeting in June.
When the meeting did go ahead in July, he said, the three main Eunan's representatives were replaced by two other members.
He claimed that no agreement exists between the two clubs on the boundary issue.
"We do not want families split," he said. "We don't want children to be forced to join our club."
In his response Charlie McAteer from St Eunan's told delegates that his club had the evidence of a pre-existing agreement from 1996 when the two clubs agreed "with the provision that there would be no boundaries. Nothing would be enforced on either club."
This, he said, was contained in actual county committee minutes, copies of which had been given to delegates.
The agreement had operated for 15 years until Letterkenny Gaels raised the issue.
Despite this and the Donegal GAA record, 40 delegates voted that they didn't accept an agreement existed between the clubs.
DONEGALDAILY.COM – FIRST AGAIN WITH ALL THE BIG STORIES IN DONEGAL
Strictly © 2011 donegaldaily.com, all Rights Reserved
Follow us on www.twitter.com/donegaldaily
Follow us on www.facebook.com/donegaldaily
Sell anything on www.donegaldailyclassifieds.com