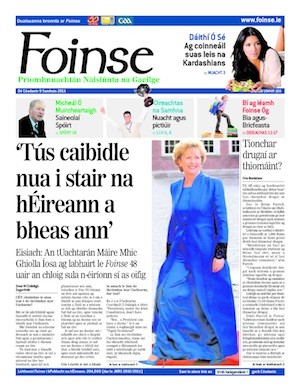 Agus deireadh tagtha le hOireachtas na Samhna 2011 i gCill Airne, Co Chiarraí, tá na hullmhúcháin tosaithe cheana féin d'Oireachtas na Samhna 2012, a reáchtálfar i Leitir Ceanainn, i mí na Samhna seo chugainn.
Meastar gur chuir an fhéile seo, a dhéanannan ceiliúradh ar na healaíona dúchasacha Gaeilge, suas le €6milliún le heacnamaíocht Chill Airne i mbliana.
D'éirigh léi na mílte Gaeilgeoir a mhealladh chuig an bhaile an deireadh seachtaine seo caite, chun scoth na hamhránaíochta agus rince ar an sean-nós, scéalaíocht, ceol traidisiúnta agus eile a bhlaiseadh.
Beidh sé le borradh mór ar an eacnamaíocht áitiúil i nDún na nGall.
Coverage of the Oireachtas in Kerry at the weekend can be found in today's edition of Foinse, inside the Irish Independent. The paper features an exclusive interview with President Mary McAleese.
© 2011 donegaldaily.com, all Rights Reserved
The copying, republication or redistribution of donegaldaily.com Content, including by framing or similar means, is expressly prohibited by law.
Follow us on www.twitter.com/donegaldaily
Follow us on www.facebook.com/donegaldaily
Sell anything on www.donegaldailyclassifieds.com
Tags: