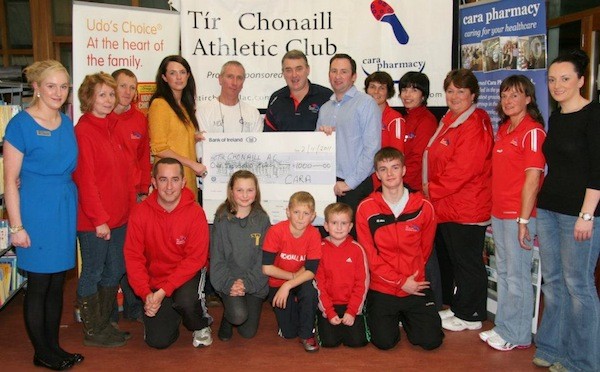 Ulster Athletics Northern Ireland Juvenile Championships (Part 2)
Barnett's Demesne, in the spacious Queens University Grounds, was the venue on Saturday last for Part 2 of the 'Ulster/Northern Ireland Juvenile Championships'.
Tir Chonaill athletes competing for individual, inter club/county medals and qualification for the All Ireland Cross Country Championships put in a number of outstanding performances in trying and contrasting conditions – underfoot the athletes were in ankle deep mud for most of the various loops while the sun shone like a glorious day in summer.

Daniel Gallagher, from Dunkineely, burst onto the scene last year when he won the Under 14 Ulster and All Ireland Schools Cross Country titles.
In the U15 3.5k race, he battled bravely and shared the lead with Jonathon Whan, City of Lisburn, and Peter Gibbons, Letterkenny until the final 600m when Gibbons increased the pace to go on to win impressively from Whan with Daniel an excellent 3rd.
Mark Boyle, from Frosses, recovered from an aggressive start that found him face down in the mud after 30metres, to come home 17th while Inver's Christopher O"Loughlan,better known as a sprinter, wa also happy filling 32nd position.
Mark McGuinness, Dunkineely, was an impressive winner of the U18 provincial title three weeks ago in Killybegs.
On Saturday,he found the mud very difficult to negotiate but never the less battled bravely for a 6th place finish. He was supported in the the U17, 4.5k race by Karl Griffin, Donegal Town, 23rd, Sean Kerrs, Frosses, 30th, and Joe Morrow, Tullaghan, 46th for a  points total of 105pts and 5th team finish.The Girls U15 3k had good performances from Eva Mc Mullin, Ballyshannon, 58th, Niamh McGrory, Donegal, 66th and Ciara Crawford, Frosses, 69th.

Congrats and well done to all and thanks to Coaches/Parents Paul and Mary Crawford, Carmel McGuiness, Brenda Morris, Michelle/Eamon Harvey who travelled to support and encourage all.

CARA Pharmmacies renew Club Sponsorship
Cara Pharmacies, dirctors Canice an Romana Nicholas, recently at a vey pleasant presentation function in Bundoran renewed the companies support for Tir Chonaill AC for another year. This progressive company, who have developed a chain of friendly and attractive pharmacies/health care stores across the north west and are a major employer in Donegal Town, Balyshannona and Bundoran continue to identify and support Tir Chonaill athletics club – a club that prides itself on having an open and inclusive community based policy. The club would like to thank Cara Pharmacies and wish them even more develoopmental success in these chaallenging times.

Club A.G.M.
The rescheduled club AGM will now take place in the Central Hotel Donegal Town on Friday 18th November -8pm start. A special invite goes out to all club members to attend. 2011 has been a most successful year for Tir Chonaill in so many areas. The review of the year will be most interesting. Come along and have your say.

Presentations
Traditionally, November, is the month when local, provincial and National awards nights take place. On Friday night of this week two club athletes will be recognised at the Ulster Awards Cermonies in Monaghan.Karl Griffin outstanding achievements in the 800m  on the National and International stages and Kate Mc Gowan's, Irsh record, in the 80m Hurdles will be applauded and given centre stage. On Saturday night he Athletics Ireland  awards banquet takes place in Dublin. A number of  Donegal individuals have shortlisted ie Ruairi Finnigan, Youth athlete of the Year, Mark English, Junior athlete of the year and Teresa McDaid, Coach of the year, Neighbours  Finn Valley are one of three clubs shortlisted for club of the year. Hopefully all will be successful. As we in Tir Chonaill will recall with pride the positive feel good factor experienced three years ago when our club group led by Paddy Donoghue on the night accepted club of the year.
Locally the club sub committee are busy organising the 2011 annual club awards night while the Donegal Co Board awards night takes place on Friday 13th January in the Finn Valley Centre.
Warm weather training
Forty two club athletes/coaches/members will depart from Belfast at 6am on the 31st December for the now annual warm weather training camp in the Algarve. Final payments will be collected within the next ten days.
Bernie O'Callaghan
At 3pm, on Saturday 19th November, the Clock Tower in Fintragh, Killybegs, is the venue for the launch of an in depth book on the history ofDonegal Athletics. The author Bernie O'Callaghan, has spent years researching this massive 532 pages publication and has put together a publication that traces the sport from the late 1950's when the late Michael Cooney led St John Bosco became the first registered and competitive club in Co. Donegal through the setting up of the county board, to National, International and Olymic achievements and representations. The book contains hundreds of photographs, facts, details of Co.Championship and records and much, much more. Congratulations to Bernie on publishing this valuable piece of research. Numerous Tir Chonaill athletes and team achievements are recalled and recognised and names and faces such as Wilson, McBrearty, Breslin, Ritchie, O'Halloran,Lorenynko,Gallagher,Stewart,McLoone etc all  jump from the pages.Congratulatons to Bernie on publishing this valuable piece of research.'Footprints in the Sands of Time -The story of Donegal Athletics  1959 2009 by Bernie O'Callaghan costs €20 an is must for all Donegal sports enthusiasts and followers.
PICTURE: Cara Pharmacies Directors, Romona and Canice Nicholas, present Tir Chonaill representatives' Paddy Donoghue and Chairman Paul O'Gara with annual sponsorship at a recent function in Bundoran.The photograph also includes Tir Chonaill members and Cara Pharmacy Staf
Eamon Harvey
Tags: