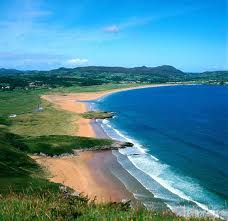 DONEGAL is set to experience some of the mildest November weather in years – with sunshine and temperatures of up to 16C on the way.
It won't be warm enough to go for a dip – but it certainly will be nice enough for a dander on one of the county's top beaches.
Rain and showers will hit the county on Friday afternoon and evening, but Saturday will be bright, sunny and around 12C to 14C.
And temperatures will rise on Sunday and Monday to 16C. It will be breezy at times, say Met Eireann, but the bright sunny temperatures will bring weather that we didn't even see during the summer.
"It will stay dry and mild with winds continuing to moderate. Monday will be dry with sunny spells and relatively mild, easterly breezes," said Met Eireann this evening.
The BBC is forecasting 15C for Sunday with sunny spells – and up to 16C for Monday but with more cloud that RTE is predicting.
So far Micky the Postman's predictions of a mild season are coming true…against the long term forecasts of some experts who said we should have snow by now!
© 2011 donegaldaily.com, all Rights Reserved
The copying, republication or redistribution of donegaldaily.com Content and Ideas, including by framing or similar means, is expressly prohibited by law.
Follow us on www.twitter.com/donegaldaily
Follow us on www.facebook.com/donegaldaily
Sell anything on www.donegaldailyclassifieds.com
Tags: