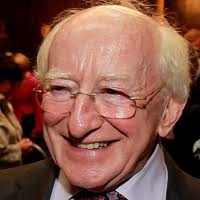 DONEGAL schoolboy Timothy Woods became the first person on the island to play solo for new President Michael D Higgins tonight.
The talented pianist from the Abbey Vocational School in Donegal Town played for President Higgins and hundreds of other guests and VIPs at the Millennium Forum in Derry City during the final of the RTE School Choir of the Year.
Northern Secretary Owen Patterson and other political leaders were also in the audience which saw Wesley College from Dublin crowned all-island choir champions.
Teenager Timmy was introduced to play a solo piece on the piano for the audience.
"I am delighted to join you here tonight and to have had the privilege of enjoying such beautiful choral performances," said President Higgins.
"Hans Christian Anderson said that where words fail, music speaks."
The President thanked all the 46 choirs who entered the annual contest run by charity Co-operation Ireland and Irish state broadcaster RTE.
"It has been inspiring to witness the final performances but every participating choir in this competition has shown the wonderful talent and teamwork that enabled each and every one of them to represent their school to the very, very best of their ability," he said.
"Surely a people that can sing together in harmony is a wonderful and great omen for the future."
© 2011 donegaldaily.com, all Rights Reserved
The copying, republication or redistribution of donegaldaily.com Content, including by framing or similar means, is expressly prohibited by law.
Follow us on www.twitter.com/donegaldaily
Follow us on www.facebook.com/donegaldaily
Sell anything on www.donegaldailyclassifieds.com
Tags: