Sinn Fein Deputy Padraig MacLochlainn has slammed those who have accused him of living it up in a five star hotel in Ethiopia.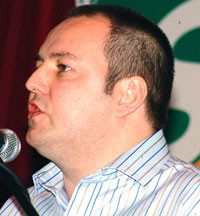 Speaking from the war-thorn region, the Donegal TD said the trip has been the most humbling in his life.
And he slammed those who accused him of enjoying a junket with four other TDs from the Foreign Affairs Committee.
Deputy MacLochlainn told Highland Radio's Shaun Doherty that he was disappointed with the 'disgusting journalism' of recent days.
He said that because of the threat all visiting parties were advised to stay in certain hotels for their own safety.
"We didn't stay in a five star hotel. We stayed in a hotel similar to the Mount Errigal Hotel. And we will be staying in a very basic hotel in a couple of days.
"This has been the most humbling experience of my life. It has been deeply, deeply moving.
"I'm not here to stay in a fancy hotel. I've travelled for five hours across dirt roads to get where I am. I'm not here for a holiday.
"Every Foreign Affairs committee has a legal responsibility to oversee – the issue is completely and utterly wrong. There is a conflict here. There were security checks.
"If people think we should stay I Ireland then I would not subscribe to that. I would speak out against junkets to places that is of no benefit.
"€36 million of Irish taxpayers money was spent on overseas development – we are ambassadors on behalf of Ireland. We have a massive reputation overseas and we punch about our weight.
"I am here to let them know that Ireland will not let them down," he said.
Tags: