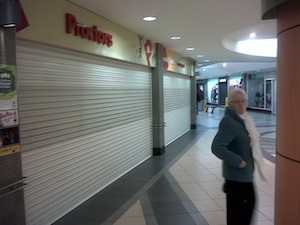 MYSTERY surrounds the closure this morning of one of Letterkenny's leading newsagent's.
Proctor's Newsagent's in the Letterkenny Shopping Centre failed to open for business as usual at 9am today.
No-one from the shop was available for comment.
And shopping centre staff said they didn't know why the popular shop hadn't opened today.
The shop closed last year for a number of days over a dispute.
However there were no notices posted on the shop front today.
© 2011 donegaldaily.com, all Rights Reserved
The copying, republication or redistribution of donegaldaily.com Content, including by framing or similar means, is expressly prohibited by law.
Follow us on www.twitter.com/donegaldaily
Follow us on www.facebook.com/donegaldaily
Sell anything on www.donegaldailyclassifieds.com
Tags: