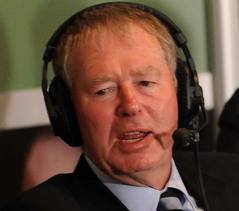 Before Micheál Ó Muircheartaigh spoke to RnaG today, he wrote about the Cassidy dispute in his regular weekly column in Wednesday's edition of Foinse. With their kind permission, we reproduce it here in full:
Clampar faoi ó Casaide
Le Micheál Ó Muircheartaigh
Bliain ó shin is beag caint a bhí faoi pheileadóirí Dhún na nGall. Ní raibh Craobh Uladh gafa acu ón mbliain stairiúil 1992 agus ní raibh dóchas róláidir sa chontae go bhfillfeadh aon chorn chucu go luath arís.
Ach nuair ba lú coinne leis chuir na déithe rath orthu, tháinig Jim McGuinness mar bhainisteoir agus bhíodar fós san iomaíocht do chraobh na hÉireann.
Bhí craobh Roinn 2 den tsraith i dtaisce agus craobh Uladh taobh leis tar éis shaothar an tsamhraidh agus aird na tíre dírithe orthu cé nach caint dhearfach a bhí le clos i gcónaí ina dtaobh.
Bhí plean cosanta acu a chuaigh thar fóir dar le lucht leanta peile i gcoitinne agus níor thaitin a dtaispeántais pheile leis an bpobal cé is moite dá lucht leanta dílis féin.
Ba ghnách leis an bhfoireann béim chomh mór sin a chur ar chosaint go mbíodh ceathrar déag den fhoireann laistiar de lár na páirce ar uairibh ach ar an taobh eile bhí 'Plean Jim' ag obair agus bhí dul chun cinn á dhéanamh acu.
Is beag a bhí idir iad agus Áth Cliath i gcluiche leathcheannais na hÉireann agus bhíodar imithe i dtaithí ar cháineadh faoi bheith ag truailliú thraidisiún na peile.
Ní mór a rá áfach nárbh iad an t-aon fhoireann iad a bhí claonta i dtreo béim a leagadh ar chosaint agus ó thaobh thodhchaí na peile tá síol galair mharfaigh ann. Bhí go maith agus ní raibh go holc agus i ngan fhios do mhórán daoine, bhí scéim ag fear ó Fhear Manach leabhar a chur ar fáil i dtreo dheireadh na bliana ina mbeadh cuntas ar pheil na bliana.
Bhí cur chuige suimiúil réabhlóideach ag an údar, Niall Bogue, agus tá moladh tuillte aige dá bharr.
Chuaigh sé chun cainte go luath le himreoirí agus níorbh fhada go raibh duine ó gach aon fhoireann sinsir i gCúige Uladh aimsithe aige a bhí toilteanach cuntas a
thabhairt ar 'a mbliain pheile féin' tráth go mbeadh deireadh leis na comórtais.
Caoimhín Ó Casaide a dhein an mhonatóireacht ar bhliain Dhún na nGall agus is ar éigean go raibh sé siúd ag súil leis an gclampar a tharla go gairid tar éis do leabhar Niall teacht ar an margadh le déanaí.
Níor cuireadh bainisteoir na foirne ar an eolas roimh ré go raibh Caoimhín ag coinneáil súil ar imeachtaí na bliana.
Níor aontaigh sé leis an mbeartas ach im' thuairimse chuaigh sé thar fóir maidir lena chinneadh Caoimhín a dhíbirt ó phainéal an chontae agus bac a chur ar imreoirí eile freastal ar sheoladh an leabhair.
Is amaitéaraigh iad na himreoirí uilig agus tá buntáiste ar leith ag a leithéidí ar imreoirí gairmiúla sa mhéid go bhfuil saoirse acu a machnamh féin a dhéanamh ar go leor ceisteanna.
Maidir le Caoimhín Ó Casaide, bhí aithne air le fada mar shárpheileadóir, mar dhuine a chuir a chroí go hiomlán san imirt, mar dhuine le haigne neamhspleách fiú má bhí sé béalscaoilteach anois agus arís.
Rugadh in Albain é agus chaith sé seal de bhlianta ann sular fhill an chlann ar Thír Chonaill. Níorbh fhada go raibh an garsún ina chainteoir líofa Gaeilge agus sásta agus bródúil í d'úsáid Domhnach agus Dálach in aon ionad ar domhan. Ghabh sé leis an bpeil Ghaelach freisin agus bhain ardchumas amach agus níorbh aon iontas é nuair a bronnadh gradam All-Star air i mbliana dá bharr.
An bhfuil Cothrom na Féinne, an tréith sin dár ndúchas go bhfuil ardghean againn air fachta ag Caoimhín? Ní dóigh liom go bhfuil agus nach bocht an scéal é go bhfuil sé fógartha aige go bhfuil deireadh aige le peil a imirt leis an gcontae.
Nach mithid anois dos na húdaráis chuí i nDún na nGall agus i bPáirc An Chrócaigh a machnamh a dhéanamh agus réiteach cóir d'fháil ar fhadhb nach bhfuil ann dáiríre ach malairt tuairime faoi chúrsaí spóirt.
Is colúnaí é Micheál Ó Muircheartaigh le Foinse agus tá a ailt le fáil in Foinse gach Céadaoin, saor in aisce leis an Irish Independent.
Tags: