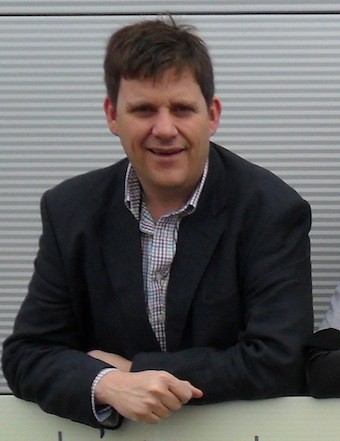 Arena 7 owner Enda Nicholls has been named Letterkenny Chamber Business Person of the Year.
The affable Mr Nicholls was for once left a little specchless when he received the award at a glamorous bash at the Silver Tassie last night.
Veteran businessman Michael Gallagher of Gallagher's Menswear was given a Hall of Fame award.
Letterkeny Chamber President Patrick McGinley paid tribute to both men.
The award winners who were surrounded by their families and business colleagues accepted the awards from Letterkenny Chamber President, Patrick McGinley.
Hall of Fame winner Michael Gallagher was nominated for his contribution to the business life of Letterkenny.
Working right in the heart of Letterkenny Main Street, Michael Gallagher of Gallagher for Men has been clothing the men of Letterkenny to the satisfaction of their wives for 27 years. Michael started his retail career by serving his time in the exclusive retailer Brown Thomas at just 18 years old.
He soon progressed to setting the very first men's' boutique in Brown Thomas.  This up market shop within Brown Thomas it marked a new era in men's fashion and proved to be a fantastic grounding for Michael as he started out on his career.
Michael Gallagher Menswear was always ahead of its time stocking brands that no-one else provided. When the shop opened they catered for that sector of the market between fashion and older men's wear.  Even Donegal men were becoming more conscious of style and colour and Michael provided just that right up until earlier this year.
Michael loved his work, loved being in the middle of everything on the Main Street and loves Letterkenny.  He would say the town has been good to him. Through the years Michael was President of the Chamber and actively served on the Chamber Council until very recently.  He has contributed much to Letterkenny over the years.
Never mind that he knew all that was going on in the main street at any given time, he was dedicated to Letterkenny Chamber. He has seen many changes and still has a passion for a much changed Letterkenny. Gallagher for Men was part of the fabric of Letterkenny and while Michael is keeping his cards close to his chest it seems he has plans for something new.
Celebrating 7 years in business Arena 7 is well recognised as the premier Family entertainment centre in Letterkenny. Outgoing, personable, risk taker but with his feet firmly on the ground Business Person of the Year, Enda Nicholls, has done a lot and has a lot more to do. Starting out his hospitality career in The Mount Errigal, Enda Nicholls had amassed a great deal of experience before setting up this very successful business.
A busy man, married to Claire and with two young children, Enda has a passion for his business and is a hands-on man who clearly loves what he does.
Arena 7 now employs 50 people, many of whom have been there from the beginning, and Enda contributes much of the success of the business to his loyal and hard working staff. While the business takes its rightful position in the fabric of Letterkenny Enda also gives a considerable amount back to the community through sponsoring teams such as Bonagee United and supporting Special Olympics.
Enda, who was once a Town Councillor, is a true optimist, but more importantly is a man with ambitions and has plans for the future.
Patrick McGinley, in this one of his last official duties as President, said on presenting the awards "Letterkenny Chamber on behalf of its members is delighted to honour these two business people and their companies. Letterkenny has benefitted hugely from the contribution that these businesses have made to the local economy.
"They are excellent examples for us all in business, inspiring confidence, showing vision and both so committed to the development of Letterkenny.  The recipients of these awards are nominated by their peers and tonight's winners join a long line of excellent and inspirational business people. "
Closing the event the president said "we should be proud of what we have achieved in Letterkenny over the years. We know that there are many more hurdles to overcome. However, we are a determined community and we have fought our corner over many years.    Together, we are a strong voice that will be heard in 2012. We know that Letterkenny and the North West is a great place to live, work and do business, so let's continue to work together to deliver on our ambitions for this town, this County and this Region."
Tags: