She may be the only woman left on TV3's The Apprentice.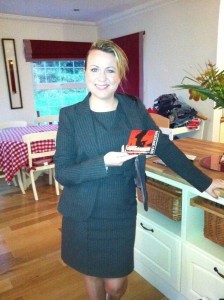 But Donegal woman Joanne Sweeney-Burke has a secret weapon on her side – God!
It's been revealed that Joanne and the only other female left in the competition, Sandra Murphy, regularly went to the local church together to light candles.
But Cork woman Sandra got the boot by Bill Cullen this week leaving Joanne as the only woman left on the show.
Joanne was seen weeping uncontrollably in this week's TV show when she realised her friend Sandra had got the boot.
However friends of Joanne say the eviction will make her even more determined to impress millionaire Cullen.
"Bill famously said he wanted someone with liathroidi. Well it's no secret that Joanne has bigger balls than all of the guys left on the show.
"It's going to take something special or a completely cock-up on Joanne's behalf to get her sacked at this stage," said a friend.
Tags: