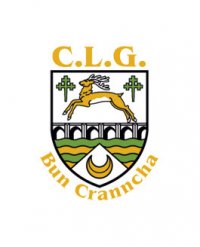 Buncrana GAA Notes For Week Ending Sunday 5th February 2012
CLG Bun Crannach Dinner Dance 2012
The committee and members of CLG Bun Crannach are happy to announce that our Dinner Dance will take place in the Inishowen Gateway Hotel on Saturday 25th February. A great night is guaranteed with entertainment provided by Keltic Kaos plus special guests County Senior Football Manager Jim mcGuinness with the Anglo Celt trophy, and County Senior Hurling Manager Andrew Wallace with the Lory Meagher trophy. Tickets are on sale now via club members and at Paul McGonigle's offices, priced €25. Everyone is welcome, the more the merrier!
Sale of Club Gear
A sale of club gear at knock-down prices will take place on Wednesday 8th February from 8.00pm – 9.00pm. Kids tracksuits are available at €30 (orginal price €55). A limited number of adult tracksuits are available at €40 while stocks last. Match Jerseys and hoodies are also available. To place an order contact 0860604075.
Gaelic4Girls
Gaelic football for girls under 10, 12, 14, 16 and 18's every Monday night from 7.00pm – 8.30pm in Scarvey. As always everybody is welcome. Please remember to bring your own water bottle and warm clothing.
Ladies Senior Gaelic Football
Training resumes on Wednesday the 18th January at 7.30pm for indoor circuit training in clubhouse at Scarvey. New players are always welcome to attend.
U8 Football
U8 Football Training had planned to start back this week but due to the unavailability of the hall the training will be back again on Friday 10th February. Any changes will be texted out.
Boys U12 Hurling
Boys U12 Hurling training continues every Wednesday evening at Crana College. Training begins at 7.00pm. New players are always welcome so please come along.
Boys U14 Football
Boys U14 Football training takes place at the Scarvey every Tuesday and Thursday evening at 7.00pm. If you haven't played before and are interested in playing Gaelic Football feel free to come along.
Boys U16 Football
Boys U16 Football training is on every Wednesday at 8.00pm sharp in Crana College sports hall, please bring trainers and own water bottle. New and returning players are welcome.
Senior and Reserve Football
Training continues on Tuesday and Thursday night at 7.30pm. Could all players please bring trainers and boots. Any player who is over the age of 16 and is interested in playing please come along. New and returning players are always welcome.
Football Coaching Courses
A Football Foundation Coaching Course, including Child Protection will take place in Carndonagh on Friday 24th February between 7.30pm and 10.30pm and Saturday 25th February between 9.30am and 4.30pm. All those interested in taking part should give their names immediately to John Friel on 086 0523550. A further course will be held in March if the course is over subscribed.
Two Level 1 Football Coaching Course will take place, one in Letterkenny in February and another one in Inishowen in March.  Anyone interested please contact Sean Noonan 087 9232988.
Referee and Umpire Courses
Please note that a Referees' Beginners Course will be held in Jackson's Hotel, Ballybofey on 4th February at 9.30am. The course will start at 9.30am sharp and refreshments will be provided on the day. Also note that there will be a Referees' Refreshers Course will be held in Jackson's Hotel on Thursday 16th February at 7.30pm.  It is important that all referees (Underage and Senior) attend. There will also be a course for Umpires in Jackson's Hotel on Wednesday 29th starting at 7.30pm sharp. This course will take just an hour so starting on time is very important. For further information on any of the above courses please contact Pat Walsh 0879142748
Calling all Amateur Photographers!
CLG Bun Crannach would like to hear from any talented and enthusiastic amateur photographers who would be interested in capturing some images of our games. This would be an excellent opportunity for a keen photographer to develop his/her portfolio, help us build an archive of images and contribute to our website. If anyone is interested or would like to know more please feel free to contact Oisín at buncrana.pro@gmail.com.
Fitness Classes
A number of Fitness classes are now taking place at the Scarvey Clubhouse. Class instructor is Eileen Hegarty and everyone is welcome. Monday 7.30-9.00pm 'Weigh & Tone: Weigh in, nutrition and motivational talk and excercise class' €10. Tuesday 8.00-9.00pm and Thursday 6.30-7.30pm 'Cardio Pump' €5. Saturday 10.00-11.00am 'Kettlebells/Circuits' €5. If anyone would like further details please ring Eileen on 0874120159 or visit 'Get Fit With Eileen' on Facebook.
Congratulations
Despite going to great lengths to keep it quiet, Club stalwart Sean Clerkin recently celebrated his 50th birthday. All at the club would like to wish Sean happy birthday! We would also like to congratulate William McLaughlin who was recognised with a Donegal Sportstar Award for Boxing on Friday night. William also fought well at the National Championships at the weekend and was unfortunate in the semi-finals.
Lotto
The winning numbers in the €2,420 jackpot lotto draw, which took place on Tuesday 24th January in O'Flaherty's Bar on the Main Street, are as follows: 4-13-16-19
There was no jackpot winner this week, however there were five €20 prizes which went to the following lucky participants:
Brian mcGonagle, c/o Bingo
Ciaran McCallum, Grianan Park
Rónán Doherty (x), Ballymagan
Fergal McLaughlin, Porthaw
Hugh McGonagle, 23 Marian Park
Congratulations to our winners and thank you to all for your continued support, it is very much appreciated.
Use of Facilities
Use of the Scarvey pitches for training or matches MUST be confirmed with Martin Mullan in advance (087 246 8108). Use of clubhouse MUST be confirmed with David McConnell in advance (087 939 2767).
Club Notes
Anyone who would like to receive a copy of the weekly club notes should email Oisín at buncrana.pro@gmail.com to be included on the mailing list.
If you do have any items which you think should be included in the club's weekly notes, please email Oisín at buncrana.pro@gmail.com by 6pm on a Sunday for consideration. To keep up to date with all the latest goings-on, please join us on www.facebook.com/buncranagaa or
www.twitter.com/buncranagaa
Tags: