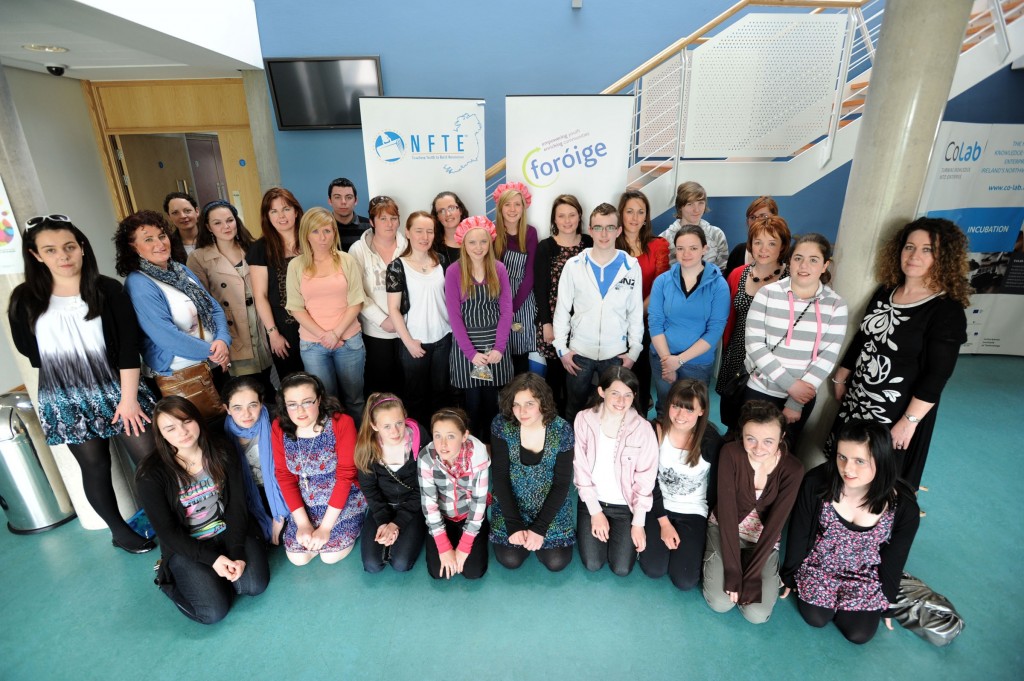 Donegal's young entrepreneurs will be exhibiting their businesses at a special Young Entrepreneur Event held by Foróige's Youth Entrepreneurship Programme the Network for Teaching Entrepreneurship (NFTE) in Villa Rose Hotel, from 11am – 1pm 2nd March.
It's an excellent opportunity for local businesses and the Donegal community to drop in and encourage our talented young people.
The young people at the fair are from all over Donegal and have taken part in the Network for Teaching Entrepreneurship (NFTE) 2012 Programme . There will be plenty of inspiration and new ideas on show.
NFTE is launching the Donegal Volunteer Programme and is inviting all business owners and local entrepreneurs to support these young people.
According to Maria Doherty NFTE Programme Manager it will make a big difference, "We're asking local businesses to get involved to support a young NFTE business, they can do this, by giving their time, becoming a mentor or by making a donation. It's so important for our young people to learn from businesses who have much more experience in the county and everyone who is involved so far has been amazed how much they enjoyed it and what they learned as well! Come on down and see for yourself on the 2nd March."
Last year's Donegal finalist Niamh Kelly (16) from Dungloe came a very impressive 2nd in the National competition, her business Oven Glove Bakery makes creative cakes and she will be exhibiting on 2nd March.
"I've really enjoy making the cakes and coming up with new ideas. Going to the national competition and was a first class experience. It's tough actually getting everything together but I've learned so much."
The NFTE programme has been proven to influence school completion, build interpersonal skills and encourage further education.
Lauren Mc Sharry a 16 year old young entrepreneur from Killybegs will also speak about her experience of the programme and her achievements since participating in it over two years ago. Lauren's home baking business is now a thriving success to point where she now employs her mother. Lauren was profiled as part of the Ernst and Young Entrepreneur of the year show and also recently was interviewed by George Lee on the RTE Radio The Business Show.
This successful entrepreneurship education NFTE programme is managed by Foróige and encourages Donegal 11 -18 year olds to come up with their own business ideas and develop them for real ; right down to market research, resourcing materials, marketing, pricing, working as a team and making a profit. Specially trained youth workers deliver the highly interactive programme and it is integrated with the young people's local communities.
The NFTE programme runs throughout Donegal in Foróige centres in Bundoran, Ballyshannon, Falcarragh, Dungloe, Killybegs, Letterkenny, Raphoe, and Donegal Town. It is delivered in Donegal as an out-of-school activity in youth clubs and special projects. Over 90 young people in Donegal participated.
"We thought it was time to show imagination and ideas of the young people from Donegal. There are some wonderful businesses here and this is the perfect opportunity for local business community to meet the young entrepreneurs and give these young pioneers some support," says Maria Doherty, Manager NFTE Ireland.
"The young people who participate in NFTE get to experience for themselves what it's like to visit wholesalers for supplies, negotiate prices, manage funds and market their products.
"We've consistently found that when young people have a chance to see their ideas transform into real viable businesses, it gives them a terrific sense of achievement. They find a new confidence and self -belief to succeed. It's also very rewarding for the youth workers who deliver the course and the business mentors who support the young people in the development of their business plan as they're inspired by their talent, passion and enthusiasm."
President LYIT Paul Hannigan will be officially launching the Donegal Volunteer Programme at the even on 2 March.NFTE programme has already been successfully introduced in Dublin, Limerick, Tipperary and Belfast with almost 1,000 young people taking part last year. The programme has also begun pilots in Cork, Mayo, Galway and Roscommon.
For anyone who wishes to take part or support the NFTE Education Programme for Young People operated by Foróige, visit www.nfte.ie or better still drop in and meet these young entrepreneurs 2 March, 2012 11am – 1pm at the Villa Rose Hotel.