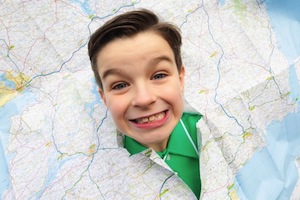 A website survey of holidays has found Donegal in a very credible fourth place when it comes to staycations – breaks at home for Irish people.
GrabOne Escapes, which launched recently to cater for budget savvy travellers looking to escape at a bargain price, conducted a survey all over Ireland to see what Irish people actually want…from their holiday that is.
And the results are good news for Co Donegal with almost one in five people in the survey choosing the county as a destination.
It comes in the same week when three local hotels won prestigious awards.
49% of those surveyed took a break in the last 6 months, 32% in the last year and 21% in the last month.  When asked who they were most likely to travel with, 66% responded that they primarily travel with a loved one, 45% with their family and 3% prefer to go solo.
The most important factor when booking a break is price, according to 70% of those surveyed, followed by location at 20% and time to get there at 6%.  Attractions and activities also play a deciding role.  Interestingly, weather only seems to be important when travelling abroad.
A resounding majority of those surveyed prefer to stay in hotels with 82% saying it's their number one accommodation choice, while 38% prefer self-catering, 8% B&Bs and 6% campsites.
The most popular types of breaks for Irish people are beach and city breaks at home and abroad with more than half of all respondents naming these as their holiday of choice.  Spa & wellness breaks are a close second (30%), followed by family fun breaks at 22%, and adventure activities or rural retreats, both at 19%.   Festivals and concerts, foodie getaways and heritage or cultural activities are also popular choices.
70% book a holiday or break based on price.
82% prefer to stay in hotels.
Galway is the most popular destination for a staycation (40%), followed by Kerry (38%), Cork (24%) and Donegal (18%).
The Cliffs of Moher and The Burren are our favourite landmarks.
Beach and city breaks are the most popular type of holiday at home and abroad.
99.5% look for sunshine when they go abroad.
Spain is the most popular foreign destination (27%), followed by Portugal (11%), Italy (10%) and the USA (9%).
Almost half of those surveyed took a break in the last 6 months
LEAVE YOUR COMMENT BELOW
© 2011 donegaldaily.com, all Rights Reserved
The copying, republication or redistribution of donegaldaily.com Content, including by framing or similar means, is expressly prohibited by law.
Follow us on www.twitter.com/donegaldaily
Follow us on www.facebook.com/donegaldaily
Tags: