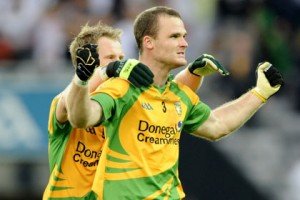 Ulster 3-11 Munster 1-15: GAOTH DOBHAIR'S Neil McGee was the Ulster hero as the province won the inter-provincial title in front of a crowd of 3,000 at the Athletic Grounds in Armagh today.
The sides were tied at half-time but Munster were heading for victory until Donegal's Neil McGee joined the attack to smash home a last-gasp goal.
Clare's David Turbidy was the top scorer on the day for the Munster side, hitting eight points.
Down's Mark Poland hit the first goal of the match after some good work by Tyrone's Owen Mulligan and Armagh's Ciaran McKeever.
Munster won most of the midfield play but Ulster's forwards made up for that as Mulligan, Poland, Dan Gordon, Darren Hughes and Martin Penrose all pointed as Ulster had 1-07 to Munster's 0-10 at half-time.
Ten minutes into the second half Peter Harte scored a second goal for Joe Kernan's side.
Clare's Rory Donnelly was brought on for Munster and he helped turn the game for the visitors hitting a goal and helping his side chalk up some more points.
But in the last minute with just a point between the two sides, Karl Lacey found his Donegal team mate McGee in the forward line and he hit the back of the net to seal a two-point win.
© 2012 donegaldaily.com, all Rights Reserved
The copying, republication or redistribution of donegaldaily.com Content, including by framing or similar means, is expressly prohibited by law.
Follow us on www.twitter.com/donegaldaily
Follow us on www.facebook.com/donegaldaily
Tags: