Advertising feature
With lots of debate about ways to save money on heating your home, one Donegal man believes he can offer a great solution.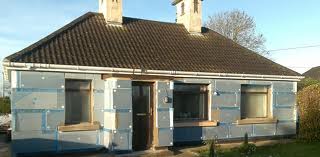 Dermot Kelly has set up Donegal External Insulation, a company which provides external insulation which the Sustainable Energy Authority of Ireland (SEAI) recommends as a full proof solution for older houses.
Already up and running, Dermot is seeing great interest and is employing a number of local tradesmen.
"External insulation can greatly reduce home heating bills, speed up how fast your home gets warm and can dramatically improve the look of a house since it comes in a number of finishes.
"These are just some of the benefits of external insulation. With the price of fuel sky rocketing people are realising that this from insulation makes sense, especially for older houses (pre 2006)," explained Dermot.
External insulation is supplied all over Ireland and has featured on RTE's About the House show with Duncan Stewart, as one of the best forms of insulation for older housing.
The (Sustainable Energy Authority of Ireland ( SEAI) is the Government agency which is encouraging external insulation and grants are available up to 4K.
We're all familiar with the traditional methods of internal insulation but what exactly is external insulation?
"External Insulation is a process which completely encases a house providing a new exterior layer, essentially covering your home like a blanket. This is mechanically fixed or bonded to the building followed by a reinforced render and then completed with a decorative finish.
"Donegal External Insulation has a wide range of finishes available in colour and textures. All are weatherproof with reduced maintenance. These can be viewed at www.Donegalexternalinsulation.com or for further information on the process and finishes, with our explanatory dvd,"explains Dermot.
External Insulation is particularly effective for older housing with solid walls which can lose up to 45% of heat or even older cavity walls which can lose up to 35%. In traditional internal insulation much of the heat is lost through the walls.
"Because external insulation uses the fabric of the building like a storage radiator, it is reflected back into the living areas, which means homes will heat up much faster, reducing heating bills and carbon emissions. The overall impact is a much more comfortable home, "says Dermot.
Local Quality, local guarantees
Donegal External Insulation Company is a registered contractor under the Home Energy Saving Scheme. That means that customers are guaranteed highest standards. All of the team are all Donegal based and all have been trained in external insulation.
"It's very important that team here understand the particular demands of the NW climate. All our tradesmen are fully certified and trained in this system. The finishes are guaranteed for 5 years."
The process involves Donegal External Insulation surveyors assessing the house and then scheduling a plan of action. The entire process is usually completed in 2 weeks. Donegal External Insulation can also assist with the grant application forms.
If you would to find out more or get a free on-site assessments contact Dermot Kelly, Donegal External Insulation 087 226 3925 or visit donegalexternalinsulation.com.
Tags: