This Saturday night is the night the people of Glenties and the surounding areas have been waiting weeks for.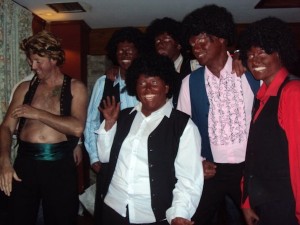 Because at 10pm sharp, 12 unmistakable acts will strut their stuff  in the M25 for charity.
Tongues are wagging as to who will descend on the town for the big night but rumour has it that Lady Gaga and her entourage are already booked in to the Highlands!!
This is the third year the town has hosted the X-Factor in Glenties and to date over €11,000 has been collected for various charities.
The 3 beneficiaries this year are the Donegal hospice, The Ronald McDonald House which provides accommodation and a caring and supportive environment for families whose children are seriously ill and are hospitalised or undergoing medical treatment at Our Lady's Children's Hospital and the Glenties playground. 
A great nights fun is guaranteed and the committee are encouraging everyone to come along and support these worthy causes.
Admission is free on the night but if anyone would like to make a donation of any kind before the night can contact Martin on 086-8656312 or indeed we will have a donation box in place on the night.
Lines will also be on sale for just €2 which can be purchased locally for a raffle on the night.
Tags: