Donegal Youth Service has announced the 16 finalists for the 2012 Irish Youth Music Awards Donegal Heat.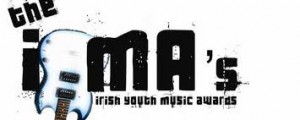 This year saw over 30 young acts from across the county enter the competition, with decisions proving very tough for the assembled team of judges as to who will take to the stage at the final in VOODOO INK in Letterkenny this Saturday.
The chosen acts will now compete to have the chance to represent the county at the Irish Youth Music Awards National Final in Liberty Hall in Dublin on April 28th.
The 16 acts chosen are:
Apollo 6 (Letterkenny)
Bonnie Morrell (Letterkenny)
Daniel Doak (Creeslough)
Don't Lean Back (Buncrana)
Epic Solution (Falcarragh)
Geraldine and Debbie (Moville)
Jamaican Vampires (Letterkenny)
Leila Keeney (New Mills)
Loose Bananas (Dungloe)
Marli Kerr (Churchill)
Rosie Carney (Downings)
Sabotage (Dungloe)
Slaves of the System (Letterkenny)
Sweet Boii AKA Martin Scanlan (Letterkenny)
The Candela Ways (Ballybofey)
The Capital (Letterkenny)
The Irish Youth Music Awards, which is co-ordinated at local level by the Donegal Youth Service, is unique in that the regional final works off a principle where all the competing bands have one vote and they have to select who they think will represent the county best at national final.
This is where the work really begins also however, as fellow bands are asked to work together to support the chosen act. If the Donegal act is successful in the national final all the local acts get to be part of a professionally recorded album in Dublin.
This is the 5th year of the Irish Youth Music Awards, with Donegal claiming the Paul Clancy Songwriting award in 2011, having previously won the overall award in 2008.
At the national final there is also the added bonus of all the bands learning a little bit more about the music industry and meeting representatives from the Irish music industry, and they are judged on all aspect of the Donegal team's project, such as putting on preparation gigs, photography, styling and fundraising efforts to help bring the band and supporters to the national final.
The Regional final takes gets underway this Saturday at 2pm, with admission €5 at the door. This is a non-alcohol event.
The Irish Youth Music Awards are a Youth Work Ireland Initiative. For more information on the Irish Youth Music Awards Donegal Heat contact Letterkenny Youth Information Centre on 074-9129640.
Tags: