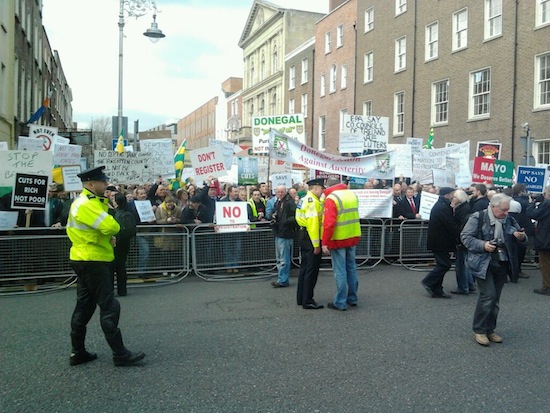 HUNDREDS of people from Co Donegal are on the streets of Dublin today – protesting at Government cuts and were described as "inspirational" by a TD.
They were joined by hundreds more from across the country – mainly from the west.
The crowds marched from the Spire in O'Connell Street to Dail Eireann as numbers there swelled.
Five bus loads of supporters left from Inishowen and west Donegal this morning.
Protestors from Galway, Limerick, Cork and several other counties are also now at the Dail.
Gardai have mounted a massive operation in the area to prevent a disruption to the busy city centre.
Barricades have been erected and protestors are planning to stay there.
However there was some criticism from some donegaldaily.com readers over the decision to have the protest today.
"I would have loved to have gone but I have to work. We should have done this on a Saturday," said one reader.
Donegal North East Sinn Féin TD, Pádraig Mac Lochlainn has commended the hundreds of people from across Donegal who travelled to Dublin today to protest outside the Dáil against the Government's austerity cutbacks. He described them as "inspirational".
Deputy Mac Lochlainn said: "I want to commend the hundreds of my fellow county people who travelled down to the Dáil today to express their opposition to austerity and punishing cutbacks and stealth taxes. They are an inspiration to their comunities for making this stand and they are an inspiration to me.
"Donegal has suffered greviously from this economic crisis. 23,000 of our people are out of full time employment. Thousands have emigrated. Good businesses have been forced to close through no fault of their own. Our public services including hospitals, schools, local authorities, and community and voluntary sector supports have been under constant attack.
"All of this to bail out wealthy European and international reckless gamblers. This Government needs to start fighting for the people who elected them. Today's protest is a clear message to all of the Fine Gael and Labour politicians in Donegal to change direction radically."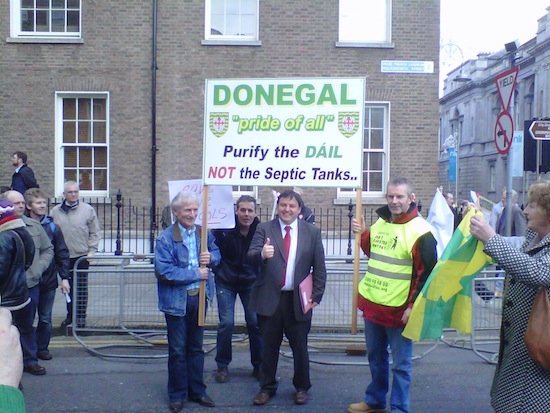 Tags: