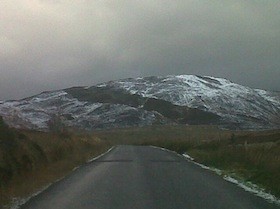 ANOTHER brief cold blast of winter is set to hit Co Donegal this weekend, forecasters at Met Eireann have said.
Temperatures are set to drop on Saturday night and by Sunday we could be seeing sleet showers and snow on the hills, say the experts.
This will be accompanied by cold northerly winds making it feel even colder.
"It will remain very mild for the rest of the week but it will turn colder and there will be sleet and snow on higher ground by Sunday," said a Met spokesman.
There is also the possibility of ice and frost.
However the cold spell is not expected to last more than couple of days.
Current long term forecasts say temperatures will rise later next week.
Irish Weather Online's Peter O'Donnell is forecasting up to 30mm of rain on Saturday night, followed by sleet and snow on higher ground on Sunday.
He says it's too early to say how the weather will follow after that.
© 2012 donegaldaily.com, all Rights Reserved
The copying, republication or redistribution of donegaldaily.com Content, including by framing or similar means, is expressly prohibited by law.
Follow us on www.twitter.com/donegaldaily
Follow us on www.facebook.com/donegaldaily
Tags: