Almost 800 pupils from a Donegal secondary school are to undertake a World Record attempt – for shuffling!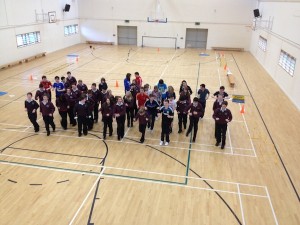 Staff and pupils from the Loreto Community School in Milford will undertake the challenge at the end of this month in their school gymnasium.
The pupils and staff have been undergoing a coordinated training regime under the watchful eye of dancers from Dynamic Waves dance group.
On the day it is hoped the pupils of the school will 'shuffle' at least a minute to break the record.
The shuffle is a new dance-step which is sweeping the planet!
The Guinness Book of World Records usually request a member of their staff to be there to verify a world record.
But on this occasion, Guinness World Record bosses say they are happy to have two members of the Gardai as independent judges.
Members of the student council along with teacher Nathania McDonnell came up with the madcap plan for the 'shuffle.'
Ms McDonnell said "The Guinness Book of Records people told us we need at least 250 people shuffling but we're going to go much bigger than that.
"It's going to be a great bit of fun but we have a bit of planning to do yet to make sure up to 800 people are all shuffling at the same time.
"Most of the pupils are naturally shufflers but I think the people from Dynamic Waves are going to have their work cut out for them with some of the teachers," she laughed.
There is even a rumour that principal Andrew Kelly is going to attempt to 'shuffle.'
Tags: