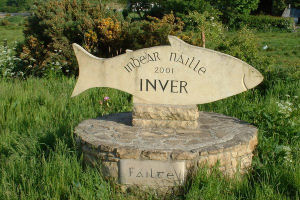 INVER NOTES: (Sent your community notes to info@donegaldaily.com)
Traditional Musicans : calling all beginner/intermediate traditional musicians – if you can play "Twinkle, Twinkle little star", we invite you to Inver Community Centre on Sunday 4th March from 3pm till 4.30pm for a "once a month session to encourage young musicians to interact and have fun with music!
We want fiddles, accordions, tin whistles, guitars, bodhrans, singers and even Irish Dancers….If you have any questions or would like to help out, please contact Tommy Byrne on 087 9568475.
Toddler Group every Monday at 10am – open to parents, grandparents and caregivers – everyone welcome!
Zumba class every Wednesday at 9.45am – drop the children to school and come for some fun exercise… new group beginning this week!
Dancing for St. Patrick's Weekend – Country Traditions on Friday March 16th, 9.30pm
Lost & Found some items of children's clothing and 1 pair of reading glasses, please call 97 36166 to arrange collection!
Family Fun Quiz on Good Friday at 7.30pm – this is group activity for all of the family!
Easter Bingo: April 8th at 4pm – Lots of Easter Egg spot prizes!
Youth program suitable for 12-17yrs old discussing relevant age issues i.e. drug and alcohol misuse, JLO, Foroige Fun Games with Vanessa Scahill, on April 3rd & 4th will take place at Inver Comm Centre with a day trip on April 5th to BODA BORG & Zip IT at the Adventure Park in Lough Key Forest Park. Limited space – please call to put name on list and receive application forms. This program and many of our classes are partially sponsored by Co. Donegal VEC.
Beginners Computer Classes – This is an 8 week class for the absolute beginner – introduction to the basic computer, touch typing and finally progressing onto Internet and email….. please call 97 36166- taking names for both morning and nigh-time classes.
"Mens Shed" Project – Information Evening at Inver Community Centre March 15th at 8pm.
Tags: