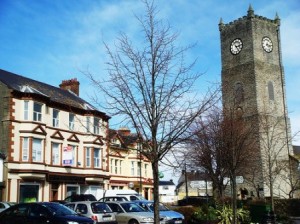 RAPHOE LOCAL NOTES
Week ending Friday 2nd March 2012
ON-LINE COMMUNITY DIARY LAUNCH
The Family Resource Centre would like to thank all those who attended the recent successful launch ofwww.raphoecommunitydiary.com and we would like to congratulate and say well done Melissa Laird and Jason Toner for their significant input into developing the initiative as part of their participation in the Volunteering in the Community Programme. The Volunteering in the Community Programme is funded by the International Fund for Ireland and is managed by Donegal Local Development Company. Guest speakers on the night included Amanda O'Loughlin, Chairperson of the Family Resource Centre, Dr. Caoimhin Mac Aoidh, CEO Donegal Local Development Company, and Hugh Mc Conville from An Gaisce-The President's Awards. The International Fund for Ireland was represented by Mary Devlin.
The on-line community diary is now live and will provide the opportunity for local community and sporting organizations, youth groups, women's groups, schools, churches etc to advertise and promote a forthcoming event, e.g. cake sale, bring and buy sale, sports fixture, competition etc. There is no cost for including an event. To find out how you can have your event uploaded please contact 074-9145796.
SPEAKING-UP REACHING-OUT PROJECT
This cross-border training programme for people with physical, sensory and learning disability is now in to its third week and is already proving itself to be a very worthwhile project. The project, a joint initiative between the Family Resource Centre and Mencap Western Area aims to develop the skills and capacities of people with disabilities to raise awareness of the barriers they face in daily life. The participants will be travelling to Stormont in April to meet with West Tyrone MLAs and to Leinster House in June to meet with Donegal Oireachtas Members to impress upon them the need to effect policy change on behalf of people with disabilities.
The Speaking-Up Reaching-Out Project is supported by the European INTERREG IVA Programme Managed by the Special EU Programmes Body and delivered by Co-operation and Working Together (CAWT) Community Awareness Programme.
SOCIAL CLUB
The Family Resource Centre has recently established a social club for people with physical, sensory or learning disability. The club, which meets in the Family Resource Centre on every second Thursday evening from 6.15-7.15pm, is a joint initiative with the Community Group Home, Ballyduff Park, Lifford. Activities include bocce, curling, pool, table- tennis, air-hockey, Wii-fit and badminton. The Family Resource Centre would like to thank Raphoe Curling Club for the use of its equipment and John Hunter for facilitating the badminton workshops. For further information please contact 074-9145796.
CHILD PROTECTION TRAINING
The Family Resource Centre is hosting accredited Child Protection Training facilitated by Donegal Youth Service on Tuesday evening 13th March from 7-11pm. The training is free and anyone interested can contact 074 9145796.
HEALTHY WALKS
If you're in or around Raphoe and would like to keep fit, join us on a Healthy Walk every Thursday, meeting at Raphoe Family Resource Centre at 9.30a.m. Everyone Welcome!!
WEEKLY EMPLOYMENT LIST
Raphoe Family Resource Centre receives an updated weekly employment list and if you are interested in receiving this list please contact 074 9145796 or call into the Centre for more details.
RAPHOE FAMILY RESOURCE CENTRE AFTERSCHOOL ACTIVITIES /
PROGRAMMES
Tuesday: 3rd & 4th Classes from 3.15 – 4.00pm; and for 5th & 6th Classes from 4.00 – 5.00 p.m.
Wednesday: Junior & Senior Infants 2.00 – 3.00pm; 1st & 2nd Classes from 3.15 – 4.45 p.m. Teen Club for 1st – 3rd year, Secondary Students 7.15 – 9.00 p.m.
Thursday: Junior & Senior Infants from 2.00 – 3.00pm; 1st & 2nd Classes from 3.15 – 4.45 p.m. Teen Club for Transition, 4th and 5th years from 7pm – 9pm.
Registration forms are now available at the Family Resource Centre for all the above activities/programmes.
COUNSELLING SERVICES
Raphoe Family Resource Centre offers a free and confidential weekly counselling service to the general public. This person-centred service is for those experiencing Bereavement/Loss, Separation, Abuse, Mental Health Difficulties and issues around sexuality. The service operates on an appointment basis only.
Please contact 086 3601718 after 7.00 p.m.
LITTLE SMILES WITH BIG DREAMS
Little Smiles with Big Dreams is a friendly baby and toddler group situated in Raphoe Family Resource Centre. We are open every Wednesday morning from
10.30 – 12 noon. Little Smiles with Big Dreams is a group that focus on fun for the kids and the opportunity for parents, grandparents and extended family to have discussions with other adults. It is a great way to introduce your child to a social environment while you can discuss parenting tips with others. There is no charge but your kiddies will enjoy playing with all our lovely toys, having messy play, singing and dancing and a light lunch is provided.
RAPHOE BADMINTON CLUB
Raphoe Badminton Club's Annual Badminton Tournament continues in the Recreation Hall with usual events run. Finals will be played on Friday 9th March. For further details contact Joe Magee (074) 9145451 (after 7p.m.), Sammy Magee (074) 9145444 or check out the Raphoe Badminton Club page on Facebook.
RAPHOE BOXING CLUB
The Raphoe Boxing Club's annual major boxing showpiece will take place on Friday 23rd March in the Cathedral Hall, Raphoe when a highly rated Raphoe Select will come up against the North West All-Stars and club coaches Brendan and Danny Ryan and Tommy Stewart hope to have 14 quality contests down for decision on the night in weights ranging from 29kgs right up to 91 kgs.
The Raphoe club would like to extend a very sincere thanks to our major sponsor Mike Kelly (Building and Scaffolding Contractor) and to all the generous business people of Raphoe who continue to financially support the club over the years as without their help the club would fail to exist.
A bumper crowd is expected on the night so patrons are advised to be in their seats early.
RAPHOE FRIDAY SENIORS CLUB:
Raphoe Friday Seniors Club meets every Friday in the Volt House Hall from 10.30am until 1pm. Come along and enjoy the tea and craic. New members welcome. For further information please call the Volt House on 9173966 or just call in any Friday. You will be very welcome.
REMINDER RE-ENROLMENT FOR SEPTEMBER 2012
St. Eunan's Primary School, Raphoe. Parents wishing to enroll their children in St Eunan's for the 2012 – 2013 school year can do so by collecting an Enrolment form from the school office any day. If this is inconvenient please telephone the school on 9145764, and we will post a form out.
SENIORS SECURITY AND PERSONAL ALARMS
Sensor Lights, Internal Lights, Seniors Personal Alarms monitored smoke detectors & monitored carbon monoxide detectors for senior citizens.
For further information or an application form for any of the above please contact Martin Laird at the Tidy Towns Office the Volt House Raphoe telephone 9145692.
Relay For Life REWIND TO THE 80s DISCO NITE
In Friel's Raphoe, on Saturday 24th March 2012 dancing 9.30-1pm
Music by Strabane Radio DJ Sean MAC (80s Dress optional)
All proceeds in aid of Irish Cancer Society.
Please come along & enjoy a night that promises to take you down memory lane while you boogie the night away to your old time favorites.
Tickets are now on sale at €5.00 each.
Your support will be much appreciated.
RAPHOE PEOPLE NEWSLETTER
Community News or Items of Interest for the "Raphoe People" may be emailed to Harriet at volthouse@eircom.net or to Lisa atraphoetidy@eircom.net Thank You.
Tags: