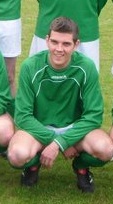 RAPHOE Men's hockey team manager David Buchanan declared his "sheer delight" today as his side beat Portadown 4-1 to get through to their first ever Irish Senior Men's Hockey Trophy final.
It didn't look so good for the Co Donegal side as the visitors scored within a minute of the start of today's game at the Royal & Prior school grounds.
But the Raphoe men came storming back with goals from Gavin Lecky and Ian McGonigle before storming to a 4-1 victory in the second half.
Now the Donegal men will be hoping they're no fools when they take on UCC in the final on April 1.
That match takes place at the UCD campus grounds – and a large Co Donegal contingent will be there hoping to see an historic win.
Said Buchanan afterwards: "We've already made history by reaching the final and we hope we can now go on and win it. There were difficult conditions here today but we are utterly delighted; over the moon."
Raphoe: Johnny Rankin, William Kilpatrick, Rodney Bates, William Wauchope, William Lecky, Ian McGonigle (Captain), Richard Patterson, George Patterson, Keith Meehan, Gavin Lecky, John Watt. Subs: Alan Meehan, Lee Coll, Trevor Patterson, Simon Goudi, David Moore.
Portadown: Johnny Rot, John McCracken, Neil Gilmore, Gareth Trot, Stephen Wylie, James Ferguson, Geoff Edcar, Jonathan Harkin, Jonathan Magill, Jamie Wright, Matthew Gray. Subs: Jamie Nipe, Mark Miskelly.
LEAVE YOUR COMMENT BELOW
© 2012 donegaldaily.com, all Rights Reserved
The copying, republication or redistribution of donegaldaily.com Content, including by framing or similar means, is expressly prohibited by law.
Follow us on www.twitter.com/donegaldaily
Follow us on www.facebook.com/donegaldaily
Tags: