BREAKING EWES: A Donegal sheep farmer is feeling 'wooly' proud of himself after one of his sheep gave birth to four lambs.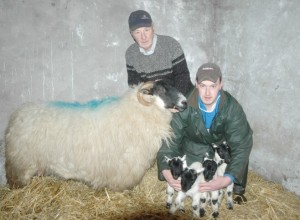 William Maxwell, from Glencolmcille, couldn't believe his luck when one of his Scotch ewes went into labour and just kept producing lambs on Sunday morning.
William hadn't scanned the three year old sheep so didn't know what to expect.
William was checking his flock early on Sunday morning on his farm at Braide and noticed the ewe was ready to give birth around 7am.
"She was pretty big but I certainly never thought she would give birth to four lambs.
"They just kept on coming one after another. It was a wonderful sight," he said.
William, who keep around 100 ewes, is the talk of the area where his family have farmed sheep for generations.
He has never had quad lambs before.
Twin and even triplet lambs are born occasionally but quad lambs are rare, according to William.
"It's the first time I've heard of quad sheep in this area in my lifetime.
"I have heard of four lambs being born but often a couple of them die fairly soon afterwards.
"We're just delighted they're all healthy and it's great to see them around the farm now," he said.
Tags: