Well known bank manager has denied rumours that he is to quit the bank and take up a position with the council.
The Letterkenny-based AIB boss will swap his pinstripe for a boilersuit to collect litter along the roadside this Saturday for a good cause.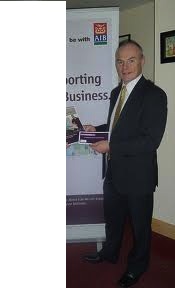 Jim, along with colleague Garvan McCloskey and a number of like minded people will be clearing litter from the roadside between the Dry Arch and Drumkeen all in aid of "Relay for Life" supporting the Irish Cancer Society.
"We have an AIB team involved in Relay for Life and we were looking at different fundraising ideas. We developled on the idea of a sponsored walk and decided to clean up as we go."
He said. " We have plenty of beautiful countryside in Donegal, but we also have many with a careless attitude to litter.
"My Mum, who died from cancer three years ago, loved getting out in the fresh air for a walk – but got very annoyed by the amount of litter along the roadsides. So in this way, I can help tidy up a little stretch of road, raise a few bob for the Irish Cancer Society and get a bit of fresh air while I'm at it!"
People are asked to make a donation at the Parkside Service Station, Pattons Shop, Drumkeen, Jameson's Bar Drumkeen or the Dry Arch Service Station.
If anyone wants to join in, the crew will be meeting up at the Parkside Service Station, Drumkeen to start at 9am on Saturday 10th and will be finished by 12.30pm.
Martin Roarty of Donegal County Council is providing us with gloves, sacks, high-vis vests, litter pickers and safety signage.
The pupils of Lurgybrack NS have also done up a number of posters for us calling on people to "keep the N13 clean!" Bacon rolls and tea will also be provided – so it's all good!!
Tags: