An event which began as a small seed of an idea has blossomed to become one of the biggest gardening events in the country.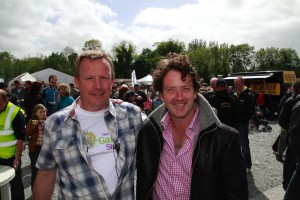 The North-West Garden Show takes place in Castlefin at the end of May and it promises to be even bigger and better.
"It began from the seed of an idea to help develop something special for our small community but it just keeps on growing.
"Now the Northwest Garden Show provides a platform for businesses and individuals to showcase their Products and Services to over 15,000 people in a village that has a population of just 700. It is quite remarkable," said Michael Carlin, Event Director of the Northwest Garden Show.
The show is organised by the voluntary committee at Castlefinn Partnership Initiative Ltd and the official launch of this year's event takes place tonight, Monday 12th March at 8.00pm at the CPI Complex, Castlefin.
Now in its third year, the show will be held on the grounds of Castlefinn Partnership Complex, on May 26th and 27th with a string of new features included in this year's programme.
The event has had remarkable success since its inception in 2010 and generates over €3.5million to the economy of the Northwest. It's nomination for an award at this year's Donegal County Enterprise Board's "Enterprising Donegal Business Awards" reflects the achievements of a small group of people for the greater good of a community.
"We are so excited about this year's show, not least having achieved the nomination by our business peers who recognise our achievements. This means so much to a voluntary committee.
"We are also set to unveil a series of new features at this year's show which we believe will bring the Northwest Garden Show to the next level. We will also confirm our plans for an international tourism product and a permanent feature on the grounds of CPI Complex. The White House Garden is a specially commissioned feature to be designed and built by Chelsea Garden Show Gold Medalist and North West Garden Show supporter, Diarmuid Gavin," says Michael.
This year organizers are predicting a 30% increase in footfall on last year's very impressive 13,000 visitor numbers.
This year the 10,000 sq. ft. Indoor Exhibition Arena will house the floral pavilion and the new and exciting Trash 'N' Fashion' event. The 8-acre Outdoor Exhibition Arena will cater for up to 140 unique exhibitors spread right around the grounds showcasing a myriad of products and services with something to interest everyone.
With 12 competitions, daily fashion shows, kids zone, 'Ask the Expert' Area, over 15,000 visitors and an array of media attention the Committee are now inviting sponsors and exhibitors to come on board for the 2012 Show.
The organising committee extend an open invitation to businesses, members of the public, gardening enthusiasts, public representatives and other stakeholders to the official launch on Monday 12th March at 8.00pm at CPI, Castlefin.
Further details of the 2012 show are available at www.northwestgardenshow.ie or find us on Facebook. For sales enquiries contact Denise McClintock + 353 86 -7755995 or email denise@northwestgardenshow.ie.
Tags: