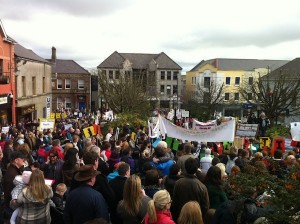 THE extent of cuts to Co Donegal schools has driven MEP Marian Harkin to accuse the Government of targeting children in their cuts – with one principal telling her that those cuts are putting education back 18 years in the county.
Ms Harkin was speaking to donegaldaily.com last night after attending the massive rally in Letterkenny on Saturday where up to 3,000 demonstrators took to the streets.
The MEP, who also attended the rally, said she spent time away from the media an the crowds talking to 'ordinary' parents and teachers.
And what she heard horrified her, saying that parents had told her that while they had to accept the austerity measures imposed by government it was totally unacceptable that the same treatment was to be imposed on their children.
Marian Harkin told us: "Speaking to the principal of St. Eunan's Raphoe which will lose four teachers next September, he revealed that the statistics of deprivation are worse today than when the school applied for Deis designation 18 years ago.
"Overall in Donegal of the 179 primary schools,100 have 4 teachers or less and all of these will be adversely impacted by the Minister's new regulations next September or soon after.  Many of these schools are in rural areas and there is no doubt that the new regulations will lead to the closure of some of them.
"This was highlighted to me by the principal of Bunbeg national school and government policy represents a serious threat to protestant and Gaeltacht schools which will be disproportionately affected.
"There will be particular problems caused by the change in the regime governing special needs assistants and resource teachers.  These changes will adversely impact children with special needs and, as such, are totally unacceptable.
"I understand that Minister Quinn has a difficult situation to resolve but cutting primary educational resources would be counterproductive and unjust and definitely against the long term interest of the nation."
LEAVE YOUR COMMENT BELOW
© 2012 donegaldaily.com, all Rights Reserved
The copying, republication or redistribution of donegaldaily.com Content, including by framing or similar means, is expressly prohibited by law.
Follow us on www.twitter.com/donegaldaily
Follow us on www.facebook.com/donegaldaily
Tags: