A pub landlord refused to give Gardai his name or allow them into his premises because he did not feel they were properly investigating a serious assault on him.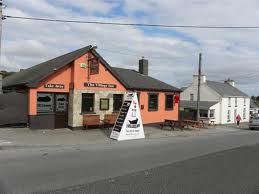 Martin Coyle, landlord of the Village Inn in Kerrykeel, appeared at Letterkenny District Court yesterday.
He was charged with a number of offences including allowing people on his premises after hours.
The court heard this was the sixth such summonse in the past two years.
Gardai revealed how they called to the pub after 2am after hearing music and people's voices inside while passing.
When they knocked on the door, Martin Coyle eventually opened the door but initially refused to give his name and allow the Gardai in.
When Gardai did eventually gain entry, they found 20 people on the premises drinking and music was being played by a band.
Solicitor Kieran Dillon told the court that all pubs, including his client's bar, were finding it difficult to make ends meet and they had welcomed a number of holidaymakers into the pub that night.
However Judge Paul Kelly said he was tired of hearing the same excuses and that all pubs had to compete on a level playing field.
Solicitor Dillon said Mr Coyle had refused to give his name to Gardai because he felt they were not properly investigating a serious assault on him.
In October 2010 Mr Coyle was stabbed by a man who came into the kitchen area of his bar and attacked him with a kitchen knife.
Mr Dillon said his client was a very hard-working man who often put in 120 hour weeks and had to pay €500 a week rent to lease the pub from its owner before he even sold a pint of beer.
He said he was not working on this night but socializing and that his brother Aidan was running the bar.
Aidan Coyle had been leaving patrons home when Gardai called to the bar after 2am but immediately closed the premises when he arrived back.
Judge Paul Kelly said he was not happy with the history of the pub which had six summonses for after hours drinking in the past two years.
He warned Mr Dillon that his client had better clean up his act or that he would lose his license and fined him €600 for allowing after hours drinking.
At hearing
© 2012 donegaldaily.com, all Rights Reserved
The copying, republication or redistribution of donegaldaily.com Content, including by framing or similar means, is expressly prohibited by law.
Follow us on www.twitter.com/donegaldaily
Follow us on www.facebook.com/donegaldaily
Tags: