Donegal HAS been hit by another mini-earthquake.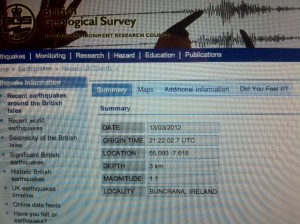 The tremor was felt by thousands of residents last night.
And now the British Geological Survey, which records earthquakes, has confirmed the tremor hit 1.1 on the Richter scale and measured 3kms deep.
The tremor's official centre was in Buncrana on the Inishowen Peninsula but it was felt in many areas including Milford, Burnfoot and Carrigart around 9.20pm.
Donegaldaily.com reported the incident last night, but it was only officially confirmed as a tremor today.
The tremor follows another mini-quake which struck Donegal on January 26th last and measured 2.2.
That quake happened almost exactly two years to the day since a similar sized tremor was felt.
The BGS confirmed the latest quake was a very small reading but was an "event' which could have been felt by people in Ireland.
One man said "The dogs started to go mad an there was a loud bang. I didn't know what the hell it was . It was only later that I got a couple of calls that people said they had heard the same thing."
"We've recorded an earthquake with a magnitude of 1.1," said BGS spokesman David Galloway.
"In terms of earthquakes, it is quite a small earthquake, but it was only at a depth of three kilometres hence probably why people felt it and the fact that it was quite late at night, when there was not a lot of traffic noise."
Tags: