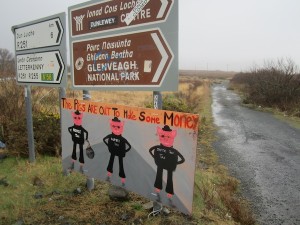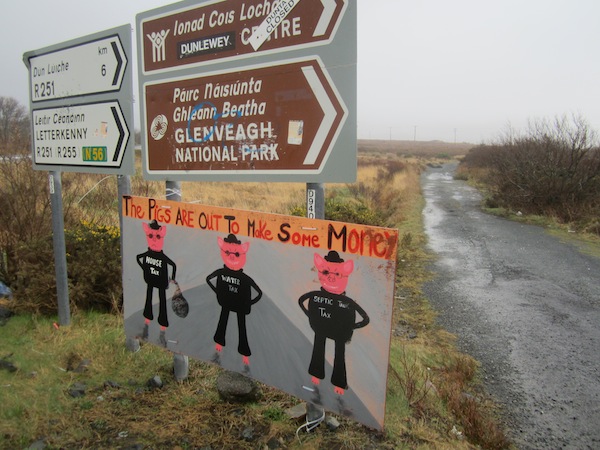 A SINISTER twist to the debate over the Household Charge has led to vandalism and threats in west Donegal, donegaldaily.com can reveal.
Some people opposed to the €100 tax have daubed threatening graffiti close to the homes of Fine Gael supporters in Gaoth Dobhair.
And vandals have also targeted members of the 'Can't Pay, Won't Pay' campaign by ripping down anti-tax posters.
Can't Pay Won't Pay campaign spokesperson Micheál Cholm Mac Giolla Easbuig has contacted donegaldaily.com to condemn those behind all the incidents.
"Up to 50 of our billboards were taken down and damaged in the West Donegal area. I believe these acts of vandalism were carried out in opposition to the success of the Can't Pay Won't Pay campaign by political opponents," he claimed.
He went on: "In recent weeks graffiti has been appearing close to the homes of local government and government supporting politicians.
"I would like to stress that this graffiti has nothing to do with the campaign nor does the campaign condone such behaviour."
He added: "I call on those responsible to think about the future of our communities, to put party political allegiances aside and make a stand for the future of ourselves and our children."
Tags: