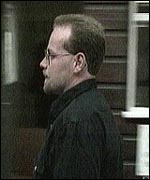 Double-killer John Gallagher followed RTE reporters after they approached him for an interview.
The Lifford man, who is now living openly in Strabane after killing Twin Towns mother and daughter Anne and Annie Gillespie, refused to answer questions when confronted.
Instead Gallagher, who escaped from Dublin's Central Mental Hospital and went on the run, ripped up a sheet with questions on it.
RTE's PrimeTime documentary team featured Gallagher as part of an investigation into people who are now on the run across Ireland.
Gallagher was filmed driving his silver Mercedes car around Strabane.
When approached by reporter Barry Cummins, Gallagher said he had no case to answer.
However the former principal of St Columba's College in Stranorlar, Sr Anne McCloone said the family of Anne and Annie Gillespie have never got justice.
Sr Anne, who was friendly with the mother and daughter, said she never felt Gallagher was insane at the time of his trial.
"I didn't feel by looking at him there was any sign of insanity. I didn't by him. I feel justice was with the perpetrator and I didn't feel there was any justice for Anne and Annie. I felt that justice is horrific," she said.
Sr Anne added that the fact that Gallagher is living just across the Lifford Bridge in Strabane makes the situation all the more difficult.
"We could literally walk into him at any given time. The family feel there hasn't been closure. And that is an open sore and it will go on. The man who did it is enjoying life.
"Just the knowledge of that pits shivers up your back," she added.
Donegaldaily has written extensively about Gallagher's case.
Gardai say that if they have evidence that Gallagher is visiting Co Donegal, he can be detained.
Several different sources have told us that the double killer often travels to Lifford.
However he takes numerous precautions and doesn't drive his own car when he makes the trips.
He also usually travels during darkness and often circles his destination to ensure he is not being watched.
Gallagher became infamous after he shot his ex-girlfriend, 18-year-old Anne Gillespie, and her mother Annie, 51, in the grounds of Sligo General Hospital  in 1988.
The then 22-year-old Gallagher was tried for murder but was found to be insane. Twelve years later he escaped from custody in Dundrum Central Mental Hospital.
Tags: