With back to back league victories under their belts, Finn Harps travel to Flancare Park on Saturday evening to take on unbeaten league leaders, Longford Town (kick-off 7.45pm).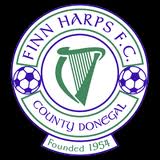 Last weekend, Harps recorded a 3-0 victory over Salthill Devon – who had two players red carded in the first half.
"I thought we played quite well in the second half of the Salthill game," said Harps Director of Football Felix Healy. "The first half had no real fluidity and the sendings-off didn't help in terms of rhythm or tempo."
On Monday last, Harps exited the League Cup at the hands of neighbours Derry City at the Brandywell. Despite a lively opening from Harps, Derry eventually ran out 4-0 winners – a result that surprised Healy.
"The Derry game was really strange," he said. "We actually did quite well for long periods of the game and were probably the better side when they scored. That set us back a wee bit but the goals in stoppage time (at the end of the first half) were crazy. Lack of concentration cost us the game."
Prior to the League Cup tie, Harps had recorded three victories in a row and by keeping a clean sheet in each game. However, Healy feels Harps didn't get the results his team deserved in games earlier in the season.
"We've actually played better in the previous four matches than the last three but that's the way the game goes at times. Peter (Hutton) coming in has helped us, no doubt about that."
So what does Healy expect from the league leaders on Saturday?
"Longford will be full of confidence, which comes from being top of the table but if we play as well as we can then we are very capable of claiming all three points," he feels.
With Ciaran Gallagher likely to be out for about a month and 16-year-old Shaun Patton now the only recognised keeper available to the first-team, Healy is confident of signing a new goalkeeper in time for the game against Longford on Saturday.
Keith Cowan and Stephen O'Donnell remain out, otherwise Harps will select from the same squad as last weekend.
~~~~~~~~~~~~~~~~~~~~~~~~~~~~~~~~~~~~~~~~~~~~~~~~~~~~~~~~~~~~~~~
TEAM NEWS
Suspended: None.
Doubtful: None.
Injured: Keith Cowan (double hairline fracture ankle), Stephen O'Donnell (medial ligament), Ciaran Gallagher (concussion).
Form Guide (last six league games)
Finn Harps: L-W-L-L-W-W (9 pts)
Longford Town: W-W-W-W-D-W (16 pts)
~~~~~~~~~~~~~~~~~~~~~~~~~~~~~~~~~~~~~~~~~~~~~~~~~~~~~~~~~~~~~~~
Last six away games against Longford Town
23/07/2005 – Longford Town 1-0 Finn Harps (Premier Division)
30/05/2009 – Longford Town 0-0 Finn Harps (First Division)
06/03/2010 – Longford Town 3-2 Finn Harps (First Division)
13/08/2010 – Longford Town 1-0 Finn Harps (First Division)
03/06/2011 – Longford Town 0-0 Finn Harps (FAI Cup)
09/07/2011 – Longford Town 3-2 Finn Harps (First Division)
~~~~~~~~~~~~~~~~~~~~~~~~~~~~~~~~~~~~~~~~~~~~~~~~~~~~~~~~~~~~~~~
Finn Harps Goalscorers 2012
Kevin McHugh – 4 (1 in League Cup)
Adam Clarke – 3
Paul Simon Tracey – 1
Thomas McMonagle – 1
Blain Curtis – 1
~~~~~~~~~~~~~~~~~~~~~~~~~~~~~~~~~~~~~~~~~~~~~~~~~~~~~~~~~~~~~~~
Finn Harps Results 2012 (Harps goalscorers in brackets)
09/04/2012 – (LC) Derry City 4-0 Finn Harps
06/04/2012 – (FD) Finn Harps 3-0 Salthill Devon (Clarke, McHugh, Curtis)
31/03/2012 – (FD) Waterford United 0-2 Finn Harps (Tracey, Waterford o.g.)
26/03/2012 – (LC) Finn Harps 2-0 Mayo League (Mayo o.g., McHugh)
24/03/2012 – (FD) Finn Harps 0-1 Wexford Youths
16/03/2012 – (FD) Athlone Town 2-0 Finn Harps
10/03/2012 – (FD) Finn Harps 4-3 Mervue United (Clarke, McHugh 2, McMonagle)
02/03/2012 – (FD) Limerick 2-1 Finn Harps (Clarke)
~~~~~~~~~~~~~~~~~~~~~~~~~~~~~~~~~~~~~~~~~~~~~~~~~~~~~~~~~~~~~~~
Tags: